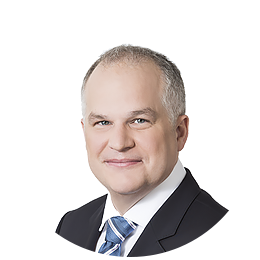 A native of the Quebec City area, it was here that Thierry Trudel obtained his bachelor's degree in business administration with a specialization in finance, as well as his MBA in marketing. Very involved in the student community, he chaired his university's graduate student association.
He began his career working for the world's leading supplier of consumer goods, where he moved up the ranks in brand management to later work in Toronto, the United States and Mexico. Thierry enjoyed continued success, notably through his work on several brands whose sales exceeded $1 billion. Thanks to his ability to develop win-win partnerships with retail market leaders, he launched, among other brands, what was the greatest innovation at the time, Crest Whitestrips. Heeding his entrepreneurial calling, Thierry came back home to found a genealogy software business with his father.
He then joined Cascades Tissue Group, where he developed marketing teams, implemented an innovation structure and contributed to the group's strategic decisions. Under his leadership, his teams successfully launched the Cascades Fluff & TuffTM and Cascades PROTM brands and developed several other innovations. In addition to his role within the Tissue Group, Thierry helped Cascades' corporate team structure their innovation approach and improve their customer focus.
In his free time, Thierry enjoys watching Rouge et Or, the football team of his alma mater, Université Laval.
---