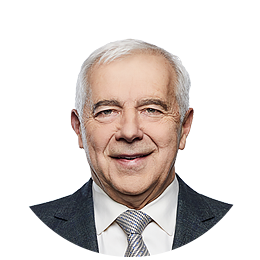 Cofounder and Executive Chairman of the Board
of Directors
 
---
Alain Lemaire was born in Drummondville. He is married and has three daughters. In 1967, he joined his brothers Bernard and Laurent, and helped Cascades Inc. become the major international company it is today. As a young child, Alain quickly became aware of the importance of recycling and recovery through his involvement in the family business. The values ingrained in him at an early age are now the cornerstone of Cascades' success and international reputation.
Alain Lemaire studied at the Institut des pâtes et papiers (pulp and paper institute) in Trois-Rivières. With a focus on efficiency and working knowledge of plant operations, he developed expertise in business development and revival. In July 2003, Alain Lemaire succeeded his brother Laurent, becoming President and Chief Executive Officer of Cascades, a position he held until May 2013, when leadership of the company passed to Mario Plourde. An experienced leader and extremely logical thinker, Alain Lemaire orchestrated the financial recovery of the Fine Papers Group and the continued growth of Norampac. In 2006, under his leadership, Cascades proceeded to buy back Domtar's stake in Norampac (Cascades Containerboard Packaging)—one of the most significant transactions in the history of Cascades.
A member of the Cercle des presidents du Québec, Alain stands out for his dedication and hard work, and is well-known as a man of action. These qualities have earned him numerous awards, not only in the regional and national business community, but also in the environmental and social sectors. Alain Lemaire and his brothers received the "Entrepreneurs à l'honneur" 2007 award from the Fondation de l'entrepreneurship. On Earth Day 2007, the daily newspaper La Presse named Alain "personality of the week," drawing attention to his commitment to environmental causes. He was named seventh most influential business personality in Québec by Le Journal de Montréal and Le Journal de Québec, and fifth most inspiring leader for Quebecers in a CROP-Les Affaires-Knightsbridge poll. In 2008, he received an Honorary Doctorate from the Université de Sherbrooke in recognition of his remarkable achievements. In 2010, Alain Lemaire was inducted as Fellow at the 16th World Productivity Congress in Turkey for his contribution to science and productivity. He also won the 2012 "GREEN CEO" award in the Corporate category, a competition organized by the Groupe Les Affaires and Trebora Conseil. The following year, the same contest organizers presented all three Lemaire brothers with the "Green CEO Hommage" award. In honour of environmentally responsible business owners, Alain Lemaire was named "Greenest CEO in Canada" at the 2013 Corporate Knights Gala. The same year, he was the recipient of the "Prix d'excellence pâtes et papier" awarded by the Quebec Forest Industry Council (QFIC), and received an Honorary Doctorate in Civil Law from Bishop's University. In 2013, Alain and his brother Laurent received the Queen Elizabeth II Diamond Jubilee Medal for their life achievements and service to fellow citizens, and were named Officers of the Order of Canada. In 2015, Alain, Laurent and Bernard Lemaire received an honorary doctorate in management sciences of the Université du Québec à Montréal. In 2017, Alain Lemaire received an honorary doctorate from Université Laval for his responsible business practices and his significant social contribution. In addition, he is an "entrepreneur-coach" at the École de L'Entrepreneurship (School of Entrepreneurship) in the Beauce, a school dedicated to the concept of entrepreneurs trained by entrepreneurs.
Mr. Lemaire is particularly proud of the fact that Cascades is a model corporate citizen with regards to sustainable development, thanks to its leading-edge management practices and environmentally-friendly products. In this regard, Cascades received the Korn/Ferry – Les Affaires Award 2013 in recognition of good governance in the area of corporate social responsibility.
Alain Lemaire is treasurer of the Eastern Townships Forestry Association. Over the years, he has acquired a number of woodlots with the aim of protecting our forest heritage.
---