Cascades values the opinion of its stakeholders in order to clearly identify the core priorities of its sustainable development approach.
---

In line with the ISO 26000 standard, the dialogue with stakeholders allows Cascades to understand the impact of its activities on society and the environment, by taking stock of the people and organizations that are affected or involved.
In 2009, Cascades undertook the first formal exercise of consulting its stakeholders, with the help of an independent external firm. The results of this consultation were collected using an online survey, targeted interviews and consultation workshops. A materiality analysis (see below) was then done based on the results of the exercise to identify priority sustainable development issues for both stakeholders and Cascades. Altogether, 18 priority actions were selected, making up Cascades' very first sustainable development plan.
A new survey of stakeholders was conducted in 2013, and confirmed the 9 priorities for action in the second plan, which covered the 2013–2015 period. This plan was drawn up by a sustainable development steering committee made up of about 20 employees from different parts of the company. To ensure that the three pillars of sustainable development (planet, prosperity, partners) were evenly represented, three action priorities were established for each pillar.
The objectives selected for Cascasdes' third sustainable development plan, covering the 2016–2020 period, are in keeping with the extensive consultations and materiality analyses of previous plans. This plan was also drawn up in collaboration with the sustainable development steering committee. By choosing to keep many objectives from previous plans, the company is ensuring that the efforts made over the years will continue to be tracked.

Who Are Cascades' Stakeholders?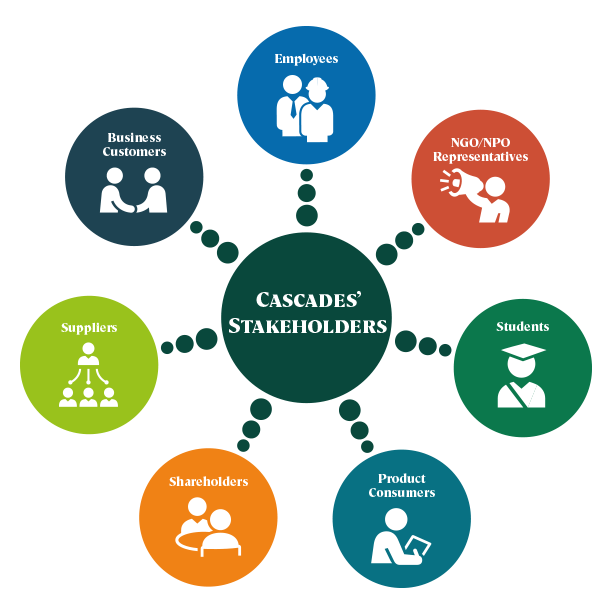 Building on Policies
Cascades has clear policies that guide and detail its commitment to generating positive impacts for the planet and its communities.

 
Working Toward a Common Goal
Cascades has a team of experts to help it implement action plans and achieve the objectives of its sustainable development plan.
 
Message from Management
At Cascades, our sustainable development efforts are solidly supported by our leaders.