Q4 - Financial Results
Cascades released its fourth quarter 2020 financial results before market open on Thursday, February 25, 2021, and held a conference call at 9:00 AM ET, to discuss the results.
Replay: 
1-855-859-2056 / 1-416-849-0833 (international)
Access code # 5877077
(available until March 25, 2021)
2019 Annual Report
As a result of the COVID-19 crisis and the related cessation of non-essential economic activities, which includes our printing supplier, Cascades files electronic version of its annual report, annual financial statements and management discussion and analysis.
Events and Investor Presentations
Presentation  │ February 25, 2021
Q4 - Financial Results

Investors Presentation
(2.1 Mo)     
Presentation  │  February 25, 2021
Webdiffusion
Cascades released its fourth quarter 2020 financial results on Thursday, February 25, 2021 at 9:00 a.m. ET.
Presentation  │  October  5, 2020
Green-lights Bear Island project
Cascades is pleased to announce plans to proceed with the strategic Bear Island mill conversion project located in Virginia.
As of 2019, Cascades received an MSCI ESG* Rating of A.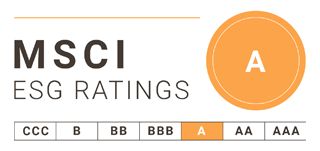 *About MSCI : MSCI ESG Research provides in-depth research, ratings and analysis of the environmental, social and governance-related business practices of thousands of companies worldwide. Their research is designed to provide critical insights that can help institutional investors identify risks and opportunities that traditional investment research may overlook. The MSCI ESG Ratings are also used in the construction of the MSCI ESG Indexes, produced by MSCI, Inc.
Code of Ethics
Our Code of Ethics and Business Conduct complies with all applicable legislation and helps Cascades preserve its enviable reputation in the industry.
 
Sustainable Initiatives
Guided by a desire to always do more for the planet, Cascades has extended its sustainable development strategy over five years.
 
2016-2020
Sustainable Development Plan   

Informations ESG (0.11 Mo)
FAQ - Investors
The frequently asked questions (FAQ) feature for investors may have the answers. If you cannot find what you are looking for, submit a new question.
 
Cascades' transfer agent

Computershare Investor Services
To process your request more efficiently,
please mention the Cascades Inc. CUSIP number: 146 900 105.
Contact Us
Jennifer Aitken, MBA
Director, Investor Relations
772, Sherbrooke Street West, Suite 100
Montréal, Québec, Canada H3A 1G1