---

Cascades : looking to the future
Leading a forward-thinking company with more than 50 years of green innovation is a tremendous responsibility that I strive to fulfill while remaining true to the convictions of my predecessors and looking to the future.
Although Cascades is known as a model for sustainable development, this enviable position cannot be taken for granted. The issues linked to the planet, prosperity and the well-being of our employees and the communities in which we operate are greater than ever and must be at the forefront of our thoughts, goals and efforts.
Our desire to raise the bar for social responsibility and play a positive leadership role in the entrepreneurial landscape drives us to constantly push the limits, rethink practices and question habits.
Cascades was a pioneer in 2010 with its first sustainable development plan. Since then, many companies in our industry have followed suit. Now that its many advantages and tangible benefits are recognized, no one questions the relevance of a sustainable development plan in entrepreneurial management.
The fact that this initiative, once considered inconsequential, has become an essential practice, gives us more hope than ever for the future.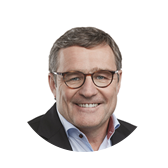 Mario Plourde
President and Chief Executive Officer
 
---