The board of directors is responsible for the administration of the Corporation and must supervise the management of the business and affairs of the Corporation. 
The primary responsibility of the board is to oversee the management of the Corporation and to preserve and enhance its viability, with due regard for the interests of all its shareholders and other stakeholders.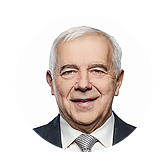 Alain Lemaire
Cofounder and Executive Chairman of the Board of Directors
"The board, along with Cascades' management team, is focused on continuing to foster a positive culture that supports the roadmap necessary for the future success of the Company and every one of our employees."