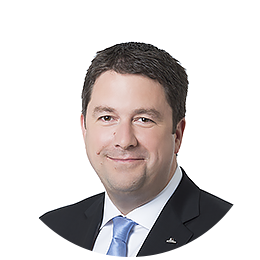 Vice-President, Communications, Public Affairs
and Sustainability
 
---
A Beauce native, Hugo has been Vice-President, Communications and Public Affairs, at Cascades since January 2013. He is responsible for the Corporation's internal and external communications and acts as media spokesperson.
Before joining Cascades, Hugo worked in the public sector for 15 years, where he acquired solid expertise in communications. He assumed the role of Advisor, Press Secretary and Director of Media Relations for the Québec Premier and, in addition, worked with other members of the National Assembly.
He holds a Bachelor of Arts from the Université Laval and a Masters of Public Administration from École nationale d'administration publique.
Hugo is very involved in the business community, sitting on the board of directors of several organizations active in various business sectors.
---