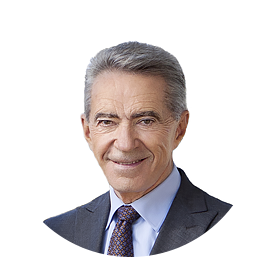 Laurent Lemaire was born in Drummondville and he is the third child of a family of five children. At eight years of age he was already fully immersed in the world of recycling as his parents were running a small recycling business called Drummond Pulp and Fiber.
In 1962, with a Master's degree in Commerce from the University of Sherbrooke, he officially joined his father and brother, Bernard, as the head of Drummond Pulp and Fiber; this was followed in 1964 by his participation in Cascades' beginnings in Kingsey Falls. Of the three, he was the most financially astute and the moderator. Candor and honesty are second nature to him. A strategist, a man of challenges, he fulfills his functions efficiently.
Laurent Lemaire has always honored his roots with a management style oriented towards respect, excellence and protection of the environment. In 1992, his arrival as President and Chief Executive Officer of Cascades Inc. coincided with the restructuring of the Corporation's activities. He contributed greatly to the development of Cascades' business model.
In 2003, the Conseil de l'Industrie forestière du Québec (CIFQ) awarded Laurent Lemaire the Prix de l'excellence Pâtes et Papiers, which is awarded annually to a Québec personality who has contributed in large measure throughout his career to the development and expansion of the Pulp and Paper Industry.
In July 2003, Alain Lemaire assumed the presidency of Cascades and Laurent continued to play an important role on the Board of Directors, namely, as Chair and then as Executive Vice-Chairman, a position that he held from October 2011 to May 2014.
Laurent Lemaire has always been a concerned participant in community activities; his participation has earned him major distinctions. In 1986, he received an Honorary Doctorate in Administration from the University of Sherbrooke. In 1999, he was awarded the title of Master Entrepreneur at the Grand Prix de l'entrepreneuriat du Québec. In February 2002, Sports-Québec honored him at their annual gala with the Jacques-Beauchamp Award for his support and remarkable contribution to amateur sports. In December 2002, in recognition of his community involvement, he was awarded the Jubilee Medal. For several years, he has been involved in the Fondation du Centre jeunesse de Montréal. In 2007, he was Honorary President of the 20th anniversary Gala of the Québec Environment Foundation. In 2013, Laurent and his brother Alain received, for their contribution to the Canadian nation, the Queen Elizabeth II Diamond Jubilee Medal. They were honoured for their lifework by being named Officers of the Order of Canada. In 2015, Laurent, Alain and Bernard Lemaire received an honorary doctorate in management sciences of the Université du Québec à Montréal.
Laurent Lemaire delights in fine wines and loves to travel. In his leisure time, he enjoys horseback riding, stag-hunting and alpine skiing. He is the father of two children.
---