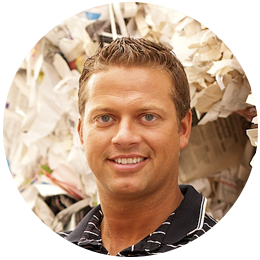 Health and Safety Coordinator – Cascades Services et Achats
 
---

Pierre Morin is an occupational health and safety (OHS) coordinator at Cascades Services et Achats. He's been a Cascader since 2001: he started as a maintenance man, then became a raw materials purchaser before specializing in health and safety. He has a certificate in that field, an other in business administration and a last one in human resources. Very involved in his community, Pierre participates in the organization of several events signed by Cascades, in addition to being Governor for the Fondation À Notre Santé of the Hôtel-Dieu d'Arthabaska.

Could you describe a typical day in the life of an OHS coordinator?

I have to uphold and enforce OHS rules and standards in my plant. My job includes writing reports following incidents and accidents in the workplace, investigating causes and finding solutions to prevent hazardous situations from reoccurring. I also lead several health and safety committees.

What do you like most about your job?

I like the teamwork. I work with plant employees and management equally. I also like that there's no routine and that my schedule can change from hour to hour. My priorities can shift very quickly over the course of a day if something unexpected happens, and I love that aspect.

What is your biggest everyday challenge?

I have to make sure my employees come into work healthy and leave the same way… but with an empty lunch box!

Which one of the projects you contributed to makes you the most proud?

Managing safety during Cascades's 50th and 55th anniversaries. That was a very nice experience. During the 50th anniversary, many events were held throughout the year without any incidents!

What's your passion?

My great passion used to be hockey, until my first child was born! Besides that, I like spending time outside, tending my yard and my flower beds.

What kind of guy are you outside of work? Are you still careful, or are you more of a daredevil?

I'm the careful kind! My neighbours make fun of me for mowing my lawn with ear protection and steel-toed boots.

Most of our Cascaders are very ecologically minded, but nobody's perfect. What's your environmental confession?

I consider myself an eco-minded person, but I think I should rinse cans better before putting them in the recycling bin!
 
---