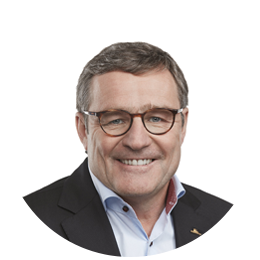 President and Chief Executive Officer
 
---

Mario Plourde was born in Danville, Québec, just a few kilometres from Kingsey Falls, the birthplace of Cascades. In 1985, he graduated from the Université du Québec à Montréal with a Bachelor's degree in Business Administration, majoring in Finance.
Fresh out of school, Mario Plourde found employment as a Controller at Cascades. His position involved travelling to the United States to work in the plants. The young professional quickly climbed the ranks, serving as Plant Manager and General Manager in the plastics sector. At the end of the 1990s, his management skills and talent for turning struggling plants around led him to occupy senior positions such as Vice-President and Chief Operating Officer of Cascades Specialty Products Group. In 2000, he was appointed President of this group.
In 2011, senior management recognized his strategic vision and dedication to the Company, and named Mario Plourde Chief Operating Officer of Cascades Inc. This position allowed him to work in close collaboration with all three of the Cascades groups. Two years later, ready to take on new challenges, Mario Plourde succeeded Alain Lemaire as head of the Company, becoming President and Chief Executive Officer of Cascades Inc.
Mario Plourde puts his experience to good use, playing a key role in various organizations, associations and social efforts. He serves as a director on the board of directors of Transcontinental Inc. and of the Fondation Charles-Bruneau. Actively involved in the community, Mario Plourde is the true embodiment of Cascades' philosophy and values. His social commitment has been recognized at the Tour CIBC Charles-Bruneau, being awarded several times with the Prix du Bâtisseur and with the prestigious Prix du Pionnier. He has also been a "leader" of the United Way Centre-du-Québec fundraising campaign. Mario Plourde's leadership was also recognized at the Gala Prix Performance, organized by the Réseau ESG UQAM and at the gala ARISTA held by the Jeune Chambre de commerce de Montréal. In 2018, he was nominated for the Inspiring Leader Award of the 35th Hall of Fame Award presented by the Bois-Francs / Érable Chamber of Commerce and Industry. He was also a recipient of the 2019 Clean50 and Clean16 awards by Delta Management Group's Clean50 for his outstanding contributions to sustainable development and clean capitalism in Canada. Note that Mario co-chaired the 2018 Daffodil Ball of the Canadian Cancer Society.
Mario Plourde is the father of two girls. In his free time, he enjoys downhill skiing, cycling, and cultivating the forest.
---