KINGSEY FALLS, QC, le 5 mai 2022 – Cascades is proud to announce the arrival of the first foreign workers in Drummondville as part of its international recruitment program, which aims to welcome about 100 employees from diverse backgrounds over the next year.
Cascades has implemented an extensive foreign talent attraction program to fill some 150 positions in its North American units. Recruitment initiatives are currently underway in some 25 countries, such as Tunisia, Morocco, Madagascar and some Central American countries. The company and its partners have already identified 122 candidates and communications are underway to potentially welcome them as new Cascaders in 2022.
Originally from Tunisia, the first four recruits from this program have just joined their new workplace: the Cascades Inopak plant, in Drummondville. Omar Hamdi, Nizar Mbarki, Mohamed Hedi Khouaja and Mohamed Ali Sekma were warmly welcomed by their colleagues at the Montréal airport on April 22. A variety of activities were planned to help them integrate into the company and understand Cascades' human values: "Stronger Together" and "Naturally Respectful". These new Cascaders bring their skills to this plant, which specializes in environmentally friendly food packaging, through their role as production helpers within the unit.
The Cascades international recruitment program is part of the company's talent attraction strategy and embraces its diversity and inclusion values. In May 2022, five more employees of Tunisian descent are expected to join the Plastiques Cascades plant in Kingsey Falls. This program is expected to continue into 2023 as workforce needs evolve.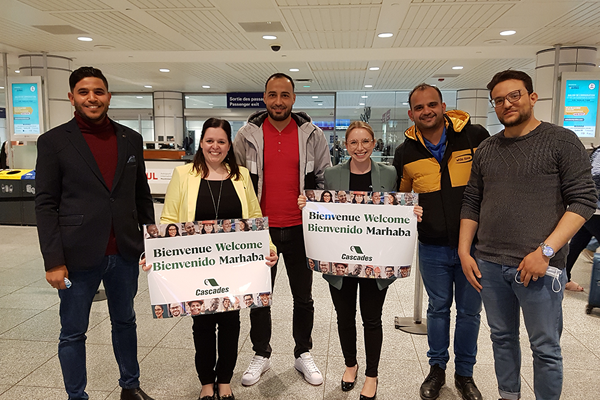 From left to right: Omar Hamdi, new Cascader, Cynthia Archambault, Human Resources Manager – International recruitment, Nizar Mbarki, new Cascader, Alexandra Lagacé-Coderre, Human Resources Manager, Cascades Inopak, Mohamed Hedi Khouaja and Mohamed Ali Sekma, new Cascaders.
Founded in 1964, Cascades offers sustainable, innovative, and value-added solutions for packaging, hygiene, and recovery needs. The company employs approximately 10,000 women and men, who work in a network of nearly 80 production units in North America. With its management philosophy, half a century of experience in recycling, and continuous efforts in research and development as driving forces, Cascades continues to deliver the innovative products that customers have come to rely on, while contributing to the well-being of people, communities, and the planet. Cascades' shares trade on the Toronto Stock Exchange under the ticker symbol CAS.
Medias:
Hugo D'Amours
Vice-President, Communications, Public Affairs and Sustainability
Cascades
819 363-5164
hugo_damours@cascades.com

Investors:
Jennifer Aitken, MBA
Director, Investor Relations
Cascades
514 282-2697
jennifer_aitken@cascades.com