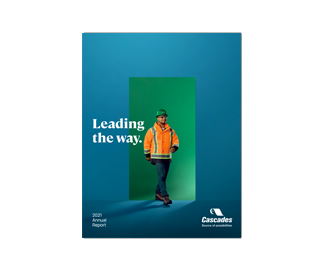 2021 Annual Report
New challenges and opportunities arise every year, and 2021 was no different. Our annual report reflects this.

2021 Annual Report
  (5.6 Mo)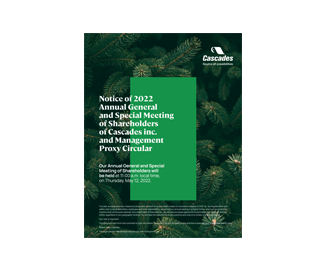 Managament
Proxy Circular
2021 Annual General Meeting of Shareholders of Cascades Inc.
 

Management Circular
 (2.1 Mo)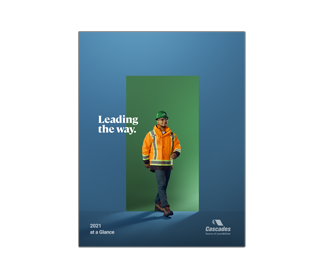 Cascades 2021 at a Glance
Only one stop for your needs in packaging, tissue paper and recovery.

Cascades at a Glance
 (2,8 Mo)
Sustainable Development
Beyond the financial benefit, we offer a sustainable investment.
As of 2020, Cascades received an MSCI ESG* Rating of AA.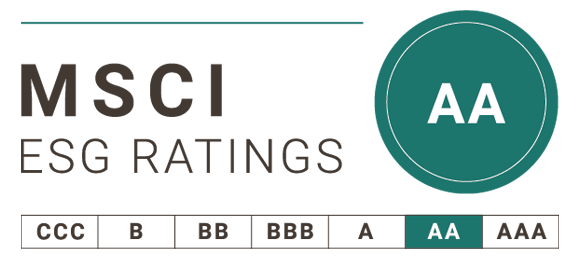 *About MSCI : MSCI ESG Research provides in-depth research, ratings and analysis of the environmental, social and governance-related business practices of thousands of companies worldwide. Their research is designed to provide critical insights that can help institutional investors identify risks and opportunities that traditional investment research may overlook. The MSCI ESG Ratings are also used in the construction of the MSCI ESG Indexes, produced by MSCI, Inc.
External Sources of Documents
Documents filed by Cascades can be consulted by following the link to SEDAR (System for Electronic Document Analysis and Retrieval of the Canadian Securities Administrators) in both French and English, and, in English only, on the U.S. Securities and Exchange Commission website. By selecting the following links, you will leave Cascades' website and be redirected to a site not belonging to Cascades, its affiliates or subsidiaries. Cascades cannot be held accountable for information found outside of its website and cannot offer any guaranty on its accuracy.
Quarterly Dividend
| Record Date | Payment Date |
| --- | --- |
| March 10, 2022 | March 24, 2022 |
| May 26, 2022 | June 9, 2022 |
| August 17, 2022 | September 1, 2022 |
| November 23, 2022 | December 8, 2022 |