Joining forces to ensure the future success of sugar shacks!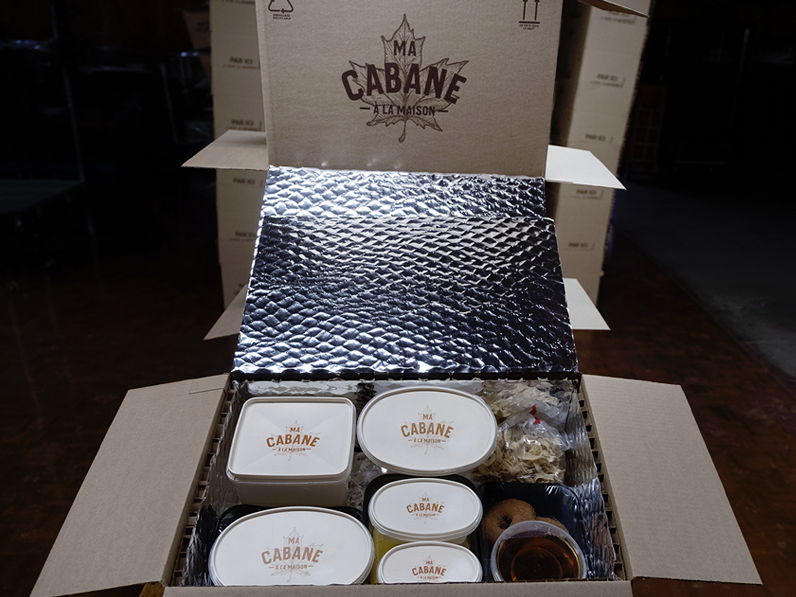 Ma cabane à la maison
Ma cabane à la maison was created in response to a heartfelt appeal to ensure the survival of sugar shacks. As sugar shacks were forced to close due to the COVID-19 pandemic, a solution was needed so they could still earn revenue. In the winter of 2021, within a matter of weeks, Stéphanie Laurin, President of the Association des salles de réception et des érablières du Québec, and Sylvain Arsenault, President and Partner of Prospek, a marketing communications agency, launched Ma Cabane à la maison. The project enables Quebecers to order "home sweet home" kits from a sugar shack of their choice and enjoy them in the comfort of their own home. Stéphanie and Sylvain had no idea how successful their idea would be: more than 110,000 kits have been sold to date!
Challenge for the 2022 season
 
Due to popular demand, the project is back this year, but as dining rooms are open again at sugar shacks, there were some additional challenges. A system was needed so that the 50 or so participating sugar shacks in Québec could quickly and successfully get supplies.
In 2021, sugar shack owners had to pick up their own packaging in Sainte-Anne-des-Plaines. A solution was needed to make their lives easier by providing quick, affordable delivery service across Québec.
Since the start, the project initiators were selective about three aspects of their packaging: it had to be locally made, environmentally responsible and able to be kept all day on the shelves at partner Metro stores.
Stéphanie Laurin
Cofounder of Ma cabane à la maison
"Maple syrup is one of Québec's most traditional products, so the packaging had to come from local suppliers that were respectful of the environment. Ma cabane à la maison is here to stay. It allows the sugaring-off season to be extended. To support this project and focus on what sugar shack owners do best, i.e. making maple syrup, they needed partners they could trust, such as Carrousel and Cascades."

Cascades northbox® insulated box
 
Designed and tested to keep food cold, the northbox® solution offers one of the best insulation technologies on the market. Maintaining cool temperatures was a major prerequisite for delivering and picking up meals outside the cold chain.
As one of Canada's top recyclers, Cascades ensures that its products have an optimal end of life. In addition, the solution was pre-qualified by How2Recycle as being recyclable in Canada and the United States.
The box is also made from recycled and recyclable materials.
Carrousel, a packaging distributor
 
Carrousel is Canada's largest independent packaging distributor. It therefore has impressive purchasing power, which was an advantage for Ma cabane à la maison. From its four warehouses, located in Boucherville, Boisbriand, Québec City and Drummondville (totalling 300,000 ft2), Carrousel makes daily deliveries nearly everywhere in Québec. With over 18,000 active customers, it has a solid team to open customer accounts and take orders.
Carrousel has been a proud distributor of eco-friendly products since 1971.
In addition to supplying sugar shacks with more than 5,000 products, it distributes plastic Lacroix containers bearing the Ma cabane la maison logo, which are made in Québec.
Patrick Robertson
Vice­President, Sales, Specialty Products Group
"Cascades is proud to support Québec sugar shacks and to be a local, eco-friendly supplier. We are teaming up with Carrousel, a partner of Cascades since its founding in 1971, to promote the continued growth of this initiative that is so close to the hearts of Quebecers."
 
Véronique Gauthier
Sales Manager – Food Packaging, Greater Montréal, Carrousel
"Carrousel delivers to more than 1,200 customers per day, and most of the sugar shacks were already our customers. Our day-to-day work entails storing packaging, taking orders and making deliveries."