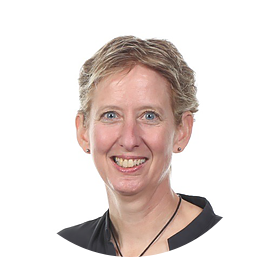 Environmental Supervisor
 
---

Annie Veilleux has been an Environmental Supervisor at Cascades in Kingsey Falls since 1998. A trained chemical engineer, she has a Master's degree in pulp and paper from the Université du Québec à Trois-Rivières. What does she like the most about her work? The diversity, the interpersonal relationships and the problem solving!

Could you describe a typical day in the life of an Environmental Supervisor?

Every day, I visit the wastewater treatment plant to monitor operations and make sure that everything is okay. We look after waste management, recovering de-inking sludge and mixed sludge from the wastewater. There is also a legal aspect to my job, which involves producing reports in order to meet environmental standards. Since I'm responsible for the complex of mills and plants in Kingsey, I work mostly with Cascades Containerboard Packaging - Kingsey Falls, Cascades Forma-Pak, Cascades Papier Kingsey Falls and Cascades Tissue Group – Kingsey Falls.

What are some of the challenges you meet on a daily basis?

Keeping the water treatment plant in good working order. Dealing with unexpected events!

How do you find working in a mostly male environment?

I don't see a difference; I guess I'm used to it, having worked with men since I started university, where I studied engineering. What counts is character!

What are you most proud of in your work?

Finding practical solutions that work, are applicable and functional in the long term. I must strike a balance between the environment, production and profitability, while keeping costs to a minimum!

What is your greatest passion?

Cycling is a hobby of mine that has become a passion. I get my bicycle out pretty early in the spring, and don't put it back in storage until quite late in the fall. I share this passion with my two daughters and my partner. We've done several times the cycling tour La Petite Aventure Desjardins de Vélo Québec, and I've participated in the Granfondo Garneau Québecor presented by Cascades. I've also done the Grand Tour Desjardins, which represents 750 km in 7 days.

Most of our Cascaders are very ecologically minded, but nobody's perfect. What's your environmental confession?

I have nothing to confess; I'm going to hold on to my image of perfection, I must set an example!
 
---