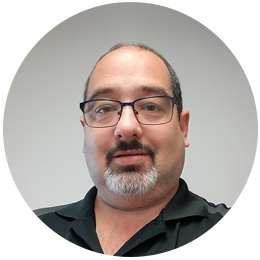 Transport Manager – Cascades Recovery+ Lachine
 
---

What is your professional background?
I worked as a supervisor for a lumber company for seven years. One day, a friend of mine told me about Cascades. So I decided to take the plunge and apply. I started as a forklift driver, then I applied to work as a shunter on the evening shift. I later became a dispatcher and then transport manager, which I am now.

What exactly does a transport manager do?
I'm responsible for the overall management of transport: analyzing the current situation, making recommendations to optimize logistics, controlling costs and identifying service problems. I have to offer solutions to improve customers' level of satisfaction. I also work to maximize the performance of equipment and control operating costs. My day-to-day tasks also include developing procedures and setting performance targets related to transport, as well as making sure that laws and regulations governing transport are followed at all times.

What are your passions?
I really enjoy walking, and I love computers, boats and camping!

If you had to describe yourself in two words, what would they be?
Sincere and loyal.

Can you name two things you couldn't live without, and why?
Toilet paper—I'll let you guess why! A computer, to stay in touch with my friends and family and reduce the distance between us.

Since most of our Cascaders are ecologically minded, but nobody is perfect… What is your environmental confession?
I should buy more local and in-season products, which haven't travelled far from producer to retailer. I should also make using cleaning products that don't damage the environment one of my good habits!
 
---