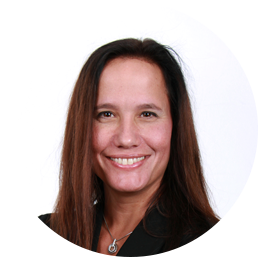 General Manager - Cascades Tissue Group
 
---

Natacha Houde is General Manager of Cascades Tissue Group. She is a woman for whom status quo is not an option; his thirst for learning is unfulfilled. That's why she has a Bachelor's Degree in Chemical Engineering, two certificates; the first in quality and the second in Computer Science, an MBA and an other Bachelor's Degree in Translation she will complete this year.

How many years have you worked at Cascades?
I have more than 6 years of experience at Cascades, but I have been in the pulp and paper field for over 20 years. It's impossible for me to leave the pulp and paper industry. I believe it's become part of my genetic code.

What is your training?
My various jobs have allowed me to perfect my knowledge in several fields. Basically, I have a Bachelor's degree in Chemical Engineering from École Polytechnique de Montréal. I began my career in the "quality" sector, obtaining a certificate with the same name. I then had the opportunity to work as a systems engineer. I was asked to program the PLCs and distributed control systems in the mills. I therefore decided to complete a certificate program in Computer Science to obtain a better understanding of programming and be more effective. Finally, I climbed the ladder and obtained my MBA a few years ago. I really appreciate learning and discovering new practices. For me, the best days are the ones when I go to sleep smarter than the day before! At there is no shortage of opportunities at Cascades!

Could you describe a typical day in the life of the General Manager of Tissue Group?
Working as a general manager is exciting, as no two days are alike. There's no such thing as a routine! It's a role in which resourcefulness, adaptability and analytical skills are essential. My days are filled with a range of challenges, which may be related to health and safety, equipment performance, adhering to budgets, human resources, quality, continuous improvement or product development. I consider it an important responsibility and even a privilege to manage five plants.

For me, being a Cascader means…
For me, being a Cascader means having a chance to make a difference in a company where people are listened to and respected for the ideas they contribute. This, I believe, is what distinguishes Cascades from many other companies and that drives its employees to outdo themselves constantly.

What are your passions?
I have several passions, specially painting, writing and music. It's somewhat strange for a Cartesian engineer like me to have an artistic side! These activities are difficult to practice, because I travel a lot in the course of my work and I'm the mother of two wonderful adolescents who drain my weekends dry. But I'm also athletic at heart, and when I'm at home, I take time to train.

Since most of our Cascaders are ecologically-minded, but nobody is perfect… What is your environmental confession?
I practice recycling at home and I try to do the maximum. However, I have one little weakness: I'm a maniac for sports cars, especially muscle cars. I have one that consumes a lot of gas. Let's say it's the opposite of an electric car. But nobody's perfect!
 
---