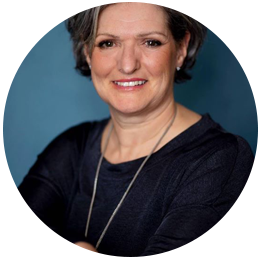 Administrative Assistant
 
---

Cascades is proud to count among its ranks many socially engaged, dedicated individuals. Their efforts make a real difference, both in the workplace and beyond. We decided to introduce you to one of them: Sylvie Laroche, a generous Cascader who has worked for Cascades since 2000 and is actively involved in Centraide fundraisers.

When Life Plays Pranks
In May 2011, Sylvie learned she had breast cancer. After overcoming the initial shock, she began the difficult treatment process. It's no secret that cancer is a devastating illness, both physically and emotionally, but what happens to patients' financial well-being? Some of them, like Sylvie, work for companies that offer their employees financial support through insurance. However, the Cascader came to realize that such an opportunity isn't within everyone's reach.

''Angels'' for people in need
Luckily, there are many organizations working to support people who are going through a rough time. They are designed to provide a variety of specialized services. But where do these organizations get their funding? Well, for example, the non-profit Centraide distributes approximately $70 million to 1,700 community organizations from all regions of Quebec. Such contributions target a variety of causes, ranging from access to housing to combating school drop-out.

A Large-scale Tradition
In a twist of fate, Sylvie has been actively involved in Centraide Centre-du-Québec's fundraising campaigns since 2007. She started as campaign manager for the Kingsey Falls Cascades headquarters. Now, she oversees the campaigns organized by the ambassadors in each of Cascades's units.
In total, over 40 Cascaders do volunteer work for the non-profit organization each year. En tout, plus de 40 Cascadeurs s'impliquent annuellement pour l'organisme sans but lucratif. Clearly, it's a way of life at Cascades, which last year raised more than $ 600,000 in Centre-du-Québec. Several thousand dollars more flow in from all over the province, thanks to other equally dedicated employees.

More determined than ever
Sylvie laments the fact that people "don't usually like to talk about society's problems." Upon returning to work, she was even more determined to build awareness among Cascaders. It's an everyday battle! "I want my colleagues to understand the essence of Centraide, what its mission is," she says. Centraide's ability to benefit all generations fascinates her.
There can be no doubt about Sylvie's enthusiasm for the positive influence of Centraide. "Anyone can fall on hard times," she argues. Sylvie, a model of kindness, knows that every little bit helps. She is also Vice-President of Prevention and Safety for the Canadian Ski Patrol System in Quebec. She does not hide that she would love to explore humanitarian aid too.
---