In 2018, the Papier Kingsey Falls (PKF) plant signed up for Natural Resources Canada's ENERGY STAR Challenge for Industry. The clock was ticking: the plant had five years to decrease its energy intensity by 10%.
The local team along with CS+ energy efficiency experts looked for every possible avenue of improvement. Over five years, they made considerable progress.
Natural Resources Canada confirmed that Papier Kingsey Falls completed the challenge successfully: the plant decreased its energy intensity by 12.5% over a five year period, 10% more than their initial goal!
This achievement also contributes to Cascades' goal of reducing our overall energy consumption by 6% by 2025 (GJ/MT), as set forth in our most recent Sustainability Action Plan.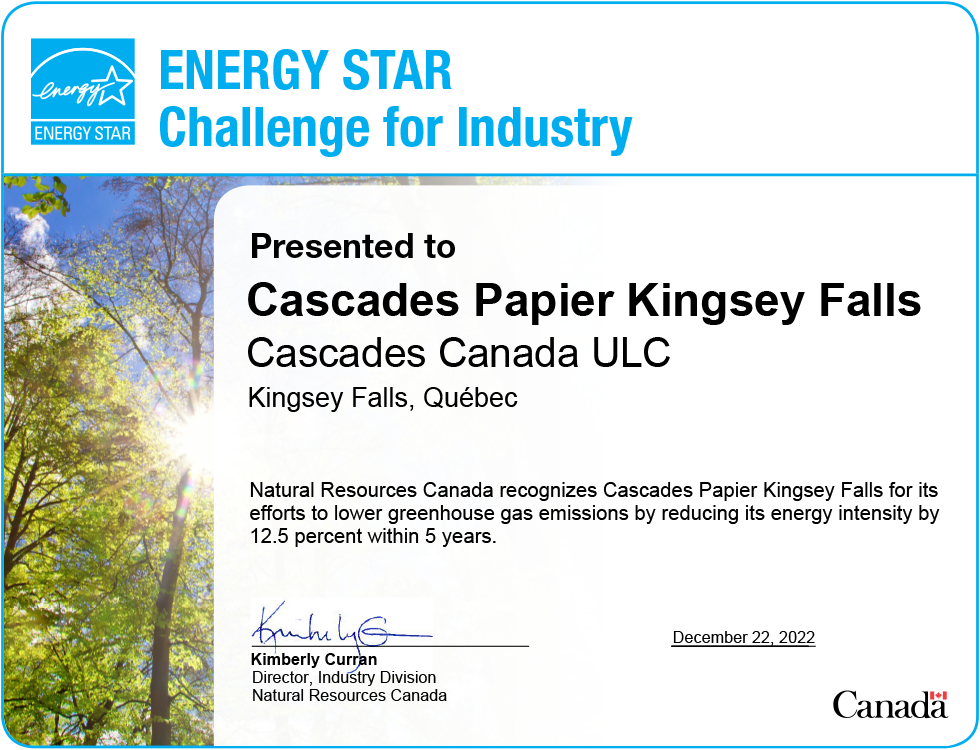 Founded in 1964, Cascades offers sustainable, innovative and value-added solutions for packaging, hygiene and recovery needs. The company employs approximately 10,000 women and men, who work in a network of nearly 80 production units in North America. With its management philosophy, half a century of experience in recycling, and continuous efforts in research and development as driving forces, Cascades continues to deliver the innovative products that customers have come to rely on, while contributing to the well-being of people, communities and the planet. Cascades' shares trade on the Toronto Stock Exchange under the ticker symbol CAS.