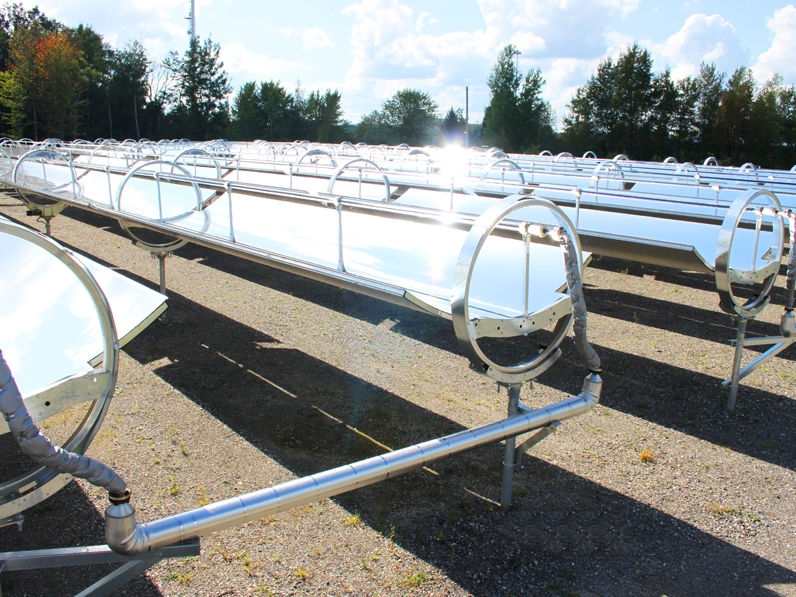 Pushing its Limits
Cascades is constantly reaffirming its leadership position on the energy front. Company co-founder Alain Lemaire had always dreamt about making Kingsey Falls a technological showcase for a green and renewable energy project. It is in this spirit that the Alain-Lemaire solar park, inaugurated in 2014, was conceived. The only one of its kind in Canada, and a world first for the pulp and paper industry, this concentrated solar power system allows Cascades to reduce the consumption of natural gas used to produce the hot water required for operations at its Kingsey Falls industrial complex.
This major project was carried out in collaboration with Rackam, a young Sherbrooke company. Such a partnership is consistent with Cascades' desire to encourage the next generation of entrepreneurs and the development of green technologies.
 
1 490
m2 de superficie totale
pour la centrale solaire
4 440
GJ de production d'énergie annuelle
139 700
m3 de gaz naturel économisés annuellement grâce à ces installations
A Major Project Recognized
The Alain-Lemaire solar park also earned Cascades the Projet vert ICI+ award, handed out at the EnviroLys gala organized by the Conseil des entreprises en technologies environnementales du Québec (CETEQ). This award recognizes companies that help protect the environment by implementing an innovative project with respect to sustainable development in line with its mission.