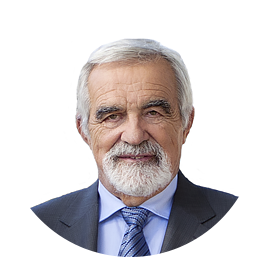 Cofounder
 
---
Bernard Lemaire was born in Drummondville. From a family of five children, he completed his primary and secondary education in his hometown. In 1957, he went on to study civil engineering at the University of Sherbrooke and later at McGill University.
In 1960, Bernard Lemaire joined Drummond Pulp and Fiber, a family venture in recycling. Three years later, he, along with his father and brother Laurent, founded Papier Cascades Inc. in Kingsey Falls. Following its preliminary listing on the Montreal Stock Exchange in 1982, the company became Cascades Inc. He was President and Chief Executive Officer of the company for nearly thirty years, until relinquishing the position to his brother Laurent Lemaire in 1992. For three decades, Bernard remained true to his management philosophy based on respect for employees and individual autonomy, while pursuing the company's expansion both in North America and Europe.
Bernard Lemaire's contributions to the business world have not gone unnoticed. In 1985, he was named Businessman of the Year by the newspaper Finances, and in 1986 he received an Honorary Doctorate in Administration from the University of Sherbrooke. In 1988, Bernard Lemaire was named Officer of the Order of Canada and in 1991, he received L'Iris d'honneur for his outstanding contribution and innovative approach to human resources management. In 1994, he received a Doctorat Honoris Causa from l'École des Hautes Études Commerciales, and the following year, the Québec Government awarded him the title of Officer of the Ordre national du Québec. In April 2002, the President of the French Republic conferred on him the distinctive title of Chevalier de l'Ordre national de la Légion d'honneur. In December 2002, in recognition of his social contributions, he was awarded the Jubilee Medal. In 2003, he presided over the fund-raising campaign for the Fondation de l'Université du Québec à Trois-Rivières. In June 2004, Mr. Lemaire was conferred a Doctorat Honoris Causa by the Université du Québec à Trois-Rivières in recognition of his acclaimed reputation in the business world and his unwavering commitment to social responsibility. In 2015, Bernard, Laurent and Alain Lemaire received an honorary doctorate in management sciences of the Université du Québec à Montréal.
Bernard Lemaire has played a crucial role in Cascades' success. His achievements have been recognized by Les Mercuriades, l'Entreprise de l'année, le Cercle des bâtisseurs, Prisme, Les Olympiades industrielles, 2013 Green CEO awards, and the list goes on. A prominent figure of modern Québec, Mr. Lemaire personifies entrepreneurship.
Bernard Lemaire, father of three, enjoys playing golf and has a keen interest in cars.
He passed away on November 8, 2023.
 
---