Less packaging – better packaging. In the food industry and beyond, this adage is becoming a new standard as many businesses and consumers seek concrete ways to reduce the environmental footprint of their packaging. This is also why Cascades has been reinventing eco-friendly packaging for over 50 years.

360-degree environmental picture

Faced with the multitude of so-called "eco-friendly" options on the market, it's difficult to identify packaging that really stands out for its low environmental footprint. What criteria must be met for packaging to be considered "eco-friendly"? Content? End of life? Certification by an independent third party? Before choosing a certain packaging, perceptions and impressions should be set aside, and one should rely instead on verified, quantified facts.

Science provides an objective perspective on this issue with a proven method: Life Cycle Analysis (LCA). This rigorous approach assesses the environmental performance of packaging at each stage of its life cycle, providing an overall picture of its impacts. This method is recognized worldwide and is governed by the 14040-44 standards of the International Organization for Standardization (ISO).

LCA is Cascades' preferred approach for assessing the eco-responsibility of its food packaging. Its analyses are carried out by independent, qualified and recognized organizations, allowing the company to share the results with its customers.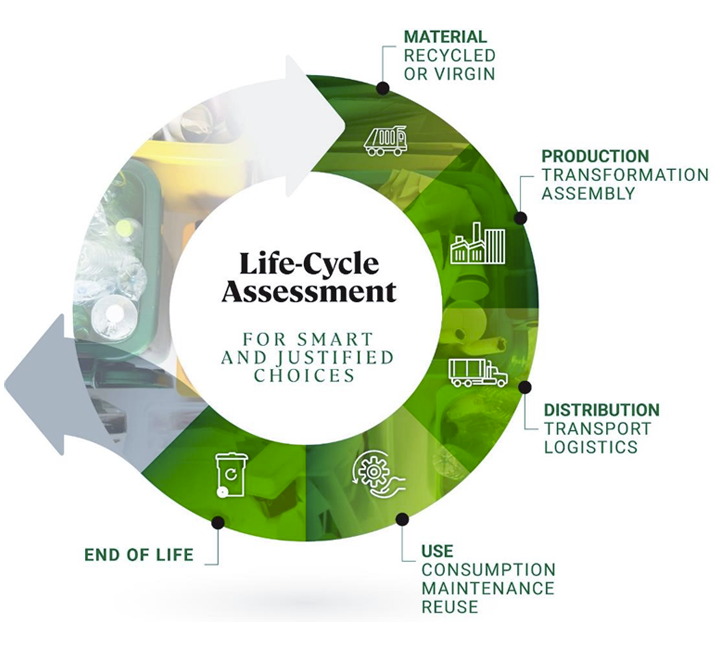 Eco-design: drawing the footprint

The cornerstones of LCA also help guide Cascades in developing new products. In designing eco-friendly packaging, it's important to make choices that minimize the environmental footprint at every stage of the life cycle. That's the basis of the "eco-design" concept. This proactive assessment makes it possible to avoid shifting the impacts from one stage of the life cycle to the next (e.g. by replacing a component that would make the product non-recyclable), and to identify improvement opportunities to further reduce the footprint of new packaging.

Wise use of resources

Eco-design and the circular economy are closely linked concepts. The latter model is based on using resources to their full potential, avoiding the waste caused by linear logic: extraction-production-consumption-disposal. Cascades helps bring the circular economy to life by manufacturing the majority of its products with recycled materials, a practice that always has a positive impact on product life cycle. It precludes the extraction of new resources and diverts reusable materials from landfill. Its positive impacts also extend to energy consumption, climate change and the economy. Cascades supplies recycled materials through its 18 sorting centres and its fleet of more than 200 recovery vehicles. The company also strives to minimize the amount of materials required to manufacture its packaging, another way to reduce its footprint.

A useful end of life

Of course, to be recycled, packaging must be recyclable. Cardboard, moulded pulp, plastic: recyclable materials abound, but several factors influence their recyclability potential. Cascades' eco-design experts take these elements into account in developing new packaging, so as to maximize their chances of a second life.

The company manufactures food trays using recycled water bottles as raw material, preserving the transparency of the packaging, which increases its recyclability potential. Cascades also offers cardboard produce trays made from 100% recycled fibres, and is North America's largest manufacturer of egg filler flats, a moulded pulp packaging made from 100% recycled, compostable and recyclable fibres.

Protecting food and the environment

Eco-design is also aimed at packaging food in a way that reduces food waste. The materials used, conservation technology, design: there are many possibilities for adapting packaging to the food it protects so as to extend shelf life and minimize loss. When you consider the full life cycle of a food, the content often has more impact than the container. Protecting it properly is an essential part of the equation.
Source of possibilities

Cascades' eco-design experts will be pleased to advise you on sustainable food packaging. Their expertise provides opportunities to develop innovative solutions made
from a variety of materials, mostly recycled.
SOURCE Actualité Alimentaire