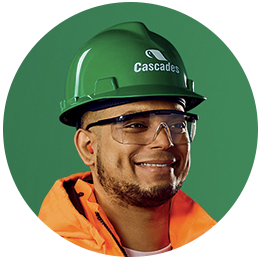 Thermoformer Operator,
Cascades Plastiques
 
---

My name is Felipe Medina, and I'm an operator on thermoformer 13 at Plastiques Cascades. I'm originally from Bayamo, Cuba, a town near Holguin, and have been working at Plastiques Cascades in Kingsey Falls for nearly five years. I came to Canada in 2011 and moved to the region, specifically Val-des-Sources, near Kingsey Falls. I was 27 at the time, and this is my journey.
I studied to become an electrical technician at a Cuban college, and then worked for five years as a supervisor at a foreign trade firm, inspecting and certifying goods for import/export. My native language is Spanish, but I also studied languages at a professional centre to learn English and French. I've always been socially involved and often organized cultural, political and recreational events. I'm a professional salsa dancer, also in other styles, and a father of three.
When I started at Plastiques Cascades five years ago, there were only a few other employees from other nationalities. Today, we have a culturally diverse workplace with people from all over the world, such as Colombians, Mexicans, Cubans, Africans, Haitians, Dominicans and many others. I'm happy about Cascades' involvement in promoting equity, diversity and inclusion within the company. The values mean a lot to me. I think it's important for everyone to have the opportunity to speak openly (the "Speak Truthfully" value) and most of all, respectfully. Together, we all benefit from becoming a stronger team.
I also believe that cultural diversity fosters creativity and innovation since everyone brings their own background to the table, opening the door to innovative solutions and facilitating greater adaptability to change and a growing company.
More and more floor employees from different cultural backgrounds come to see me when they have questions. I find it rewarding that they look to me as an example. I feel good about my job working in this mutually respectful and pleasant work environment.
I'm very grateful to Cascades for being an asset in my life, for helping me to integrate into Québec culture and to grow as a person.