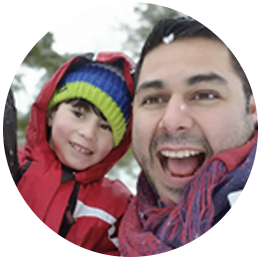 Senior Project Leader – Operations,
Greenpac
---

In 2019, I arrived at Greenpac Mill in Niagara Falls through outsourcing. It was supposed to be a temporary job,—only three months, they said—so I packed my bags, kissed my wife and son (who were staying behind in Mexico) and started my journey to the North. A little more than a year went by, and COVID came along. I was still at the paper mill, doing a job that I truly loved while making new friends and learning so many things about other people and even about myself. But my family was not here. Fortunately, I was eventually offered a stable position working directly for Greenpac, which allowed me to bring them here to live, and that's when the real journey began.
Decisions and more decisions had to be made. On the one hand, we had our lives in Mexico, our jobs, and our own company that we had worked so hard to build over the years. We also had our house, our friends and our family that we had left behind. But on the other hand, we had the opportunity to move to the United States and experience a different culture, meet new friends and see places, learn new ways, and spend more quality time with our son.
In Mexico, it's common for families to get together every weekend, and ours was no exception. The grandmas always found a way to make it work, and there could easily be 10 to 20 relatives and friends around the grill with a cooler full of soft drinks and beer, with super-hot summer weather all year around. Sometimes there would be a soccer match, sometimes a birthday, but mostly we got together just because we enjoyed each other's company and the chance to hear the same jokes and stories over and over again. That's what we missed here at the beginning.


One of my memories here was the first Día de Reyes with our new friends, which really stands out in my mind. The tradition on that day is to gather with friends and family and or even at work and eat la rosca, a sweet bread baked in a round shape like a wreath that is decorated with fruits and sugar to resemble the crowns of the wise men who went to visit and present gifts to baby Jesus after he was born. The catch is that this bread traditionally has a one-inch plastic figurine inside that represents baby Jesus. So it was interesting having to warn our friends they should be careful while eating their slice of bread because there could be a plastic doll concealed inside.
Another highlight came on Cinco de Mayo, which so many people celebrated with me. That day was very amusing, because we do have this commemoration day in Mexico, but are no big parties like the ones we have on Mexican Independence Day on September 16. On that day also people ask me to cook chimichangas, but that dish is not from Mexico. It seems to be from Texas, but people don't know that.
With experiences like this, I came to realize there are many things I can show to my new community about my country and many things I can learn from other countries.
I would be lying if I said that the transition from there to here has been smooth, but our family traditions and our friendly culture have helped us tremendously.
Every day at Greenpac, I've had the pleasure to be part of a very international team with all my colleagues from Canada, India, Pakistan, the Philippines, Sweden and the United States. With these amazingly talented people working in such a collaborative and strategic way, every moment becomes a great experience. This constant exchange of cultures, knowledge, skills, gastronomy, trust and good vibes has helped me grow as a person in ways that I never imagined. I'm excited, because there are so many more things to learn from each other at the mill.
Now that my family has been here with me for a year already, we feel that we belong, that we are finally settled in our home. We now look forward to simply hanging out with our friends on the weekend just to talk about the mischief the kids got up to during the week, or what the weather will be like the following weekend. And even though we still care about and miss our family back in Mexico, we now feel like we're home, and we look forward to growing up here in every possible way.