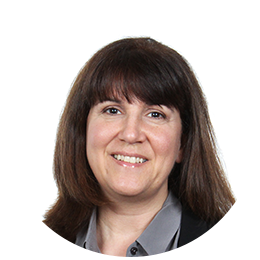 Corporate Procurement Director
 
---

Chantale Rouleau has held the position of Corporate Procurement Director in Brossard since 2017. A native of Saguenay–Lac-Saint-Jean, she has lived in the realm of pulp and paper for some time, since her father worked in a newspaper manufacturing plant for 35 years.

Chantale studied chemical engineering at the École Polytechnique, where she earned her degree in 1993. She joined a specialty chemicals company right out of school, and worked there for 22 years, in a number of different sales positions and with the technical teams. Following a shift in the market, Chantale decided to make the leap to Cascades in 2016, where she became Category Manager in specialty chemicals—a great opportunity to take on a major challenge! 

How would you describe your current position?
At the moment, I'm responsible for a team of procurement professionals. Our primary day-to-day goal is to make Cascades as competitive as possible. We achieve this mainly by negotiating good, cost-effective contracts and agreements, but also by keeping abreast of the market and maintaining a clear picture. We strive to identify the best possible partners in terms of innovation, and to hone in on those who share our environmental values. Basically, we recruit people who help us fulfil our mission! Although the financial dimension of my work is very important, my role is far greater.

To be able to negotiate good contracts, first and foremost we have to be aware of the circumstances and needs of our plants and operational units. My past experience working directly in plants has come in very handy in identifying these needs, by visiting the units involved. It makes it easier to achieve our objective on the ground and with our customers!

I'm learning so much right now in my job, and I'm putting my past experience as a chemicals specialist to good use. In Procurement, we manage million in purchases, divided into various categories. My role involves a diverse set of tasks, which make everything extremely interesting! I love my job.

How did you succeed in establishing yourself in a male-dominated environment?
I have worked in the plant sector for more than two decades, meaning that I've been mainly in the minority since I started out. I have always worked on teams made up mostly of men, so for me it's normal. I was never concerned about my ability as a woman in this position! I believe that if you give the best of yourself to your work, people will recognize what you are doing for them.

How do you manage to reconcile work and family?
I have four children : triplets and a girl. Of course there was a time when everything was much more hectic than today, when my children were younger, especially when the triplets arrived! Just find an efficient logistics. Like everything else in life, you have to find a balance in which you feel good everyday. I have always been very involved in my work, and my children realized early how important it was to me. Of course, we have to arrange schedules as parents to be present for our children, and we can not do it without the support of our family! I wanted to be a model for them above all.

What is your greatest ambition?
My primary ambition is to do everything I can to help develop Cascades, and to make a difference in the careers of the people working with me. I take my role as a manager very seriously! Being able to help support the success of my employees is, in a way, integral to my own success. As long as I feel I'm making a positive contribution to the organization, that's all I need.

What are the greatest lessons you have learned?
As I mentioned earlier, it's now being able to focus on the elements that are within my control. This was one of the best pieces of advice a former manager gave me at the beginning of my career, and it serves me well every day.

Have you always dreamt of having such responsibilities?
I didn't set myself a specific career goal. Every time I've had a promotion, it's been because an opportunity presented itself and I felt ready to take up the new challenge thanks to the confidence gained through my previous experiences.

What would you say to women striving to fill management positions or positions of greater responsibility?
I would tell them to invest passionately in what they do and to focus on what they can change. Be confident, go for it!
Testimony
"I've known Chantale for 11 years and I can say that she has certainly carved out a place for herself in the pulp and paper industry, even though it's recognized as being a male-dominated field. She easily earns the respect of her peers because of her calm, logical approach, which has allowed her to resolve so many different situations! She's always on the ball! She takes the time needed to analyze a situation and find a solution that's fair for all the parties involved. She is a very professional woman! Her attentiveness and attention to detail enable us to gain a different perspective on the problems we encounter and on their potential solutions. Chantale is a woman her team can trust and count on, always!"
Lydia Vaugeois, Operations Support Specialist, Cascades CS+ Inc.