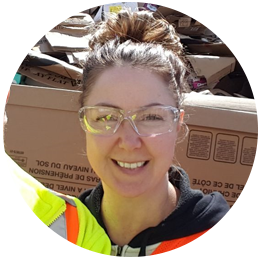 Plant Manager -
Cascades Recovery+ Kelowna
 
---

Deanne Stephenson, plant manager of Cascades Recovery + in Kelowna, has been in the male-dominated recycling industry for over 20 years, filling the role of plant manager with competence and grace well before women commonly held senior Operations positions.

Most of all, she loves interacting with people. When one of her professors suggested, in the 90's, that she apply for a position at Crown Packaging in Kelowna (now Cascades Recovery+), she started to laugh. With a background in tourism, she didn't believe she was qualified for the position. She's had to admit she was wrong, since her career path has kept her in the recovery field ever since. She realized that Operations is like customer service, except the customers are the employees. She gives her all to make sure the employees are happy. Today, we're taking a look at an authentic and kind woman.

What do you do on a day-to-day basis?
I manage relationships. I'm the liaison between employees at all levels and customers, suppliers or corporate management team. This involves managing personalities, fulfilling everyone's needs and demands while balancing typical general manager tasks. Day-to-day tasks cover functions under health and safety, human resources, accounting, operations and administrative. I would also consider myself a coach and a coach is only as good as their team. The hard work and efforts put in by the 70 employees here are what keep the facility running. It is a collaborative effort.

What do you like most about your job?
The people. Especially the ones who have taken the initiative to take on more responsibility and have successfully moved into positions of responsibility. I also have a passion for health and safety. I enjoy analyzing and then customizing safety rules and procedures so they apply to our workforce and workplace.

What do you think are the qualities of a good leader?
I feel both men and women need to be equipped with autonomy, organization, delegation, and communication skills. A leader also needs to know how to motivate their team members and respect that this looks different for each individual. Woman typically have a higher level of empathy and that is one of the top character traits needed to be a successful manager and leader.

How did you succeed in establishing yourself in a male-dominated environment?
I succeeded in a male-dominated environment by having supportive mentors and surrounding myself with a strong team that has strengths in other areas than my own. I asked a lot of questions. I observed best practices and adopted them. I didn't stand in the background; I took initiative and risks.

What perceptions would you like to change?
That the Recovery division falls under the Waste industry. We save the planet one piece of paper at a time and are proud to be an integral part of the environmental movement and the Cascades family.
Testimony
"I have had the privilege of working with Deanne for more than 20 years. She is a social person who values relationships and lights up the room with her warmth, hugs and charismatic personality. Deanne engages and develops her teams with a genuine and authentic leadership approach. She is a people-person who excels in communication, not only in expressing and sharing her needs and expectations but also demonstrating a rare ability to really listen to others' thoughts, ideas and perspectives. She is constantly looking for new ideas and is willing to embrace and instigate change. She has earned the respect of both colleagues and competitors in BC and has contributed to the success of multiple projects in our company over the years."
Brandon Rogers, General Manager - Cascades Recovery+ Surrey