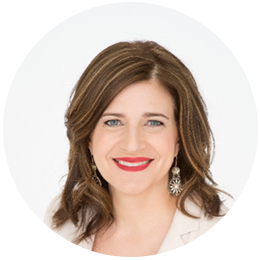 Vice-President Marketing and Innovation -
Cascades Specialty Products Group
 
---

After working for more than 20 years in the retail and consumer goods sector, Evelyne Lafontaine was won over in 2017 by Cascades' innovation and eco-design values. Boasting a bachelor's degree in marketing from Université de Sherbrooke, Evelyne currently holds the position of Vice-President, Innovation and Marketing for the Specialty Products Group.

She started her career at Yves Rocher, a French company specialized in plant-based beauty products. Her primary mandate? Establishing the brand in Canada. She was then sent to Paris to handle product development for the international market. Five years later, she returned as Marketing Director for all stores in North America. Evelyne also had a brief stint at TVA as editor for such magazines as Clin d'œil and Moi&cie. Our team sat down with her to find out more about her impressive career path and her aspirations.

How would you describe your current role?
My role is to establish a short, medium and long-term vision for innovation in our strategic markets. How do we want to be positioned in food packaging in next years? How can we stand out more in the market? Do we have the right product offering? Once the priorities have been established, I make sure that our efforts and resources are properly aligned for our key projects.

The most important part is presenting information in plain language and ensuring comprehension, both inside and outside the company. To provide true added value, we have to have a thorough grasp of the client's needs. Finding a way to explain our process to other departments and understanding their challenges is a key element.

How are you equipped to carry out the tasks involved in your role?
I am surrounded by a great team. I'm fortunate to have a visionary boss and the support of my management committee. I had the opportunity to set up a new Innovation and Marketing team, which is actually comprised exclusively of women. They each have expertise in their respective fields.We lay the groundwork together and develop the necessary tools for achieving our objectives. And we are very well supported. I have discovered that Cascades has a wealth of technical talent, so we are able to put the right experts on the right projects.

What is your greatest ambition?
My greatest ambition is that Cascades become the leader in environmentally friendly food packaging. I want customers to think of us when they are looking for a strategic and innovative eco-design partner.

We have an incredible opportunity to achieve a strong position in the rapidly changing packaging market. I firmly believe that the synergy among our three divisions will serve to accelerate our developments and meet our customers' needs. To achieve this, we need to shake up our approach to innovation, constantly re-examine how we operate and not be afraid of trying new things.

What has been your best discovery since joining Cascades?
The collaboration between operations people and the technical experts. Every sector of Cascades has a gold mine of expertise. People are open and willing to answer questions and proudly share their experience. The wealth of talent among Cascaders is a driving force of the company.

What has been the most memorable moment of your career?
My career has been punctuated by memorable moments, for instance working in different cultures, creating departments and implementing organizational changes. But there were some bumps along the road. I have learned a great deal in the process and have been supported by strong teams. I understood one very important thing: to grow, you have to constantly challenge yourself.

Did you always aspire to have such responsibilities?
I think a person creates their role and opportunities. I'm someone who really goes for it, who does whatever it takes, and I have a real passion for my line of work. I thrive on challenges and I took on responsibilities very early on in my career. So you could say I've always aspired to have significant responsibilities. To be successful, you the need the support of a strong team. My favourite quote is "alone you can go faster, but as a group you can go farther."

What advice would you give to women who aspire to hold key roles?
Have confidence in yourself! What's the worst that can happen? If it doesn't work out, at least you will have tried and you won't have any regrets. Too many women wait until they have 100% of the skills and qualifications before applying for a job. We are all learning on a continuous basis. Don't be afraid of conveying your ambitions and of aspiring to something greater. Make yourself heard, speak out more and louder. That's how you'll get noticed. Make allies who will support your vision.
Testimony
"To me, Evelyne is a role model of inclusion and collaboration. She has had a compelling career path. Having headed up marketing for one of the first cosmetics companies to use a direct sales business model, she has leveraged this expertise in innovation at SPG, leading our group's transition to a creative model aligned with our strategic arenas. Thanks to her strategic, poised and efficient approach, and her ability to view our business model with a critical and constructive eye, SPG is well positioned as a leader in environmentally friendly packaging solutions. Evelyne is resilient and always prepared to defend her team and her organization, and she always makes sure that decisions are based on consensus."
Patrick Robertson, Vice-President Sales, Cascades Specialty Products Group
"Evelyne is a very good listener and strives to find solutions as a team. I like the balance that she brings to the team. She offers a female and more human perspective of the organization. I value the different perspective she brings of the market and the customers—what interests them and how they perceive us. Success depends on the team and on each person's different contribution to the organization. Not only do we value Evelyne for her approach and her positive spirit at the office, we also value the entire team she has built around her and its strong impact on our environment, leading us in new directions and supporting our growth and development. With people of this calibre in our midst, we can be confident about our future."
Luc Langevin, President and Chief Operating Officer, Cascades Specialty Products Group