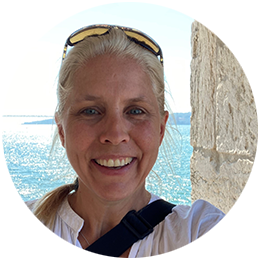 Investors Relations Director,
Cascades
 
---

In April 2023, Jennifer Aitken was named a finalist in the Best Investor Relations Officer (Small Cap)category of the IR Magazine Awards, which recognize excellence in the investor relations profession in Canada. Jennifer's knowledge of Cascades and her ability to build quality relationships with investors made her the ideal candidate for this nomination

Jennifer, what education or career path can lead to a position like yours?
I initially earned my bachelor's degree in industrial relations from McGill University. My first job was at UNUM, a US company that worked in wholesale trade. In that role, I gave presentations to insurance company representatives about the company's products. I also won the Canadian Rep of the Year award while working there.
I was then hired by a Montréalbased tech company. I liked that job a lot, but it involved a completely different way of thinking! After two years, I decided to go back to school to earn my MBA at Concordia's John Molson School of Business. When I finished, I was immediately hired by RBC as an associate financial analyst. My role was to communicate our financial forecasts for large corporations to fund managers around the world, who were our clients. Although I enjoyed being an analyst, I realized that what I particularly liked was communicating financial results and strategy
So I found a job opening on the "other side of the table" in investor relations in the mining industry. I was then able to apply what I'd learned as an analyst. Since I could understand what analysts were looking for, I could communicate it clearly. After six years in that role, Cascades contacted me and I've served as Director of Investor Relations ever since.

What does your role at Cascades entail?
My role at Cascades is to oversee communications of the company's financial results and strategy. At the end of the day, I help managers and teams communicate the results we want to achieve and more importantly, those we will achieve, to external stakeholders. It's a mix of finance and communications, which I enjoy.

What do you like about your current position?
I'd say the first thing is interacting with others. I really like the people I work with. There's also the sustainability development side of Cascades and its environmental values, which really resonate with me. I couldn't see myself working for a company that wasn't doing its part for the environment

What does your recent nomination in the Best Investor Relations Officer (Small Cap) category of the IR Magazine Awards mean to you?
It's an honour, of course! It feels like proof that I'm doing something right and that my day-to-day work is truly appreciated by our external community. It's all the more gratifying that the nomination came from outside the company. In reality, it has as much to do with me as it does with Cascades.

As a woman, how do you feel about working in this predominantly male environment?
In the past, I've always worked on teams and in positions that were predominantly male and, quite frankly, it doesn't make much of a difference to me. As a woman, you have to learn how to take your seat at the table and give yourself the right to speak—always in a respectful way that benefits the group and that adds value to the discussion, of course.

Do you find it difficult to juggle your work and your personal life?
Sometimes, but I'm used to it and I'm a fairly organized person. I'm also very fortunate to have a husband who supports me in that. I can also thank Cascades because the company values maintaining a work-life balance, which I very much appreciate.

How do you see the future of your investor relations work?
The last seven years have been very interesting for investor relations given the internal changes at Cascades. In fact, it's pretty amazing what the company has been able to accomplish despite the difficulties it's faced. So, it's a very interesting time and I'm looking forward to seeing the direction the company takes in the coming years