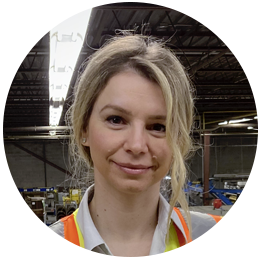 Plant Manager in succession,
Cascades Containerboard Packaging – Scarborough
 
---

Since joining Cascades in 2016, Victoria has had an impressive trajectory, and is constantly being guided by her drive, determination and desire to grow professionally and personally.

Victoria, tell me more about your background. It's quite impressive. Between 2016 and now, you've gone from being Designer to Production Manager in succession, and then Plant Manager in succession at Cascades Containerboard Packaging – Scarborough.
In fact, I first joined Cascades as an intern after my first year of college. At the time, I was studying in the Graphic and Package Design program at Humber College. After graduation, I was offered a designer position in Vaughan, and I accepted.
The years went by, and when I got back from maternity leave, a lot had changed. In Vaughan, the design team, which had grown significantly, was going through the ONE Cascades transition, through ComEx and adjusting to SAP. There was an opportunity for growth, so I took the initiative to help and support my supervisor by taking on projects and organizing the workflow.
To further expand on my knowledge, I then applied for the Mastery in Packaging Management and completed the program with honours. I knew that production knowledge was key to being a successful designer, so I always expressed my desire to learn more about operations. Spending more time on the production floor has been part of my objectives for years!
After I saw the leadership development training offered by Cascades, I subsequently initiated discussions to see if I could be included. This is how the position of Production Manager in succession came into my life, as well as the position of Plant Manager in succession shortly after. I seized these opportunities.

What attracted you to operations?
When I started helping with the workflow for the design team, I knew I could do more for Cascades. Naturally, the next step for me was operations. I am a people-oriented person, and this definitely helps me make my way around. My high level of organization and desire to improve were the perfect combination for my professional journey. Plus, operations always seemed to be a magical mechanism to me. Being part of such a complex side of the business was a good fit for my personality and was the right step for my career development.

Have you experienced any reluctance from people when you made your career change?
No, especially not from my superiors. Everyone was very encouraging of my journey.
On the production floor, I quickly realized I had to be strategic in how I approached teams, presented myself, stated Cascades' views and suggested changes to meet them. I think for the production team, it was a little bit stressful to see a young female with less experience being their leader. With respect, humanity and determination, things quickly worked themselves out to foster good collaboration and focus on results.

Did you always aspire to have the responsibilities you have today?
I always knew I wanted to do more, but, Terry Clarke, my direct supervisor when I was a designer should take the most credit for my current success. He was the first person to tell me that I had the talent to motivate people and lead them toward success. Thanks to him, I've developed my eye for organization, I've been able to achieve departmental and company goals, and I've educated myself about leadership. Everything after that was just an open path of opportunities to show how much more I have to offer.

What do you like most about your current position?
The never-ending development and the fact that we have the ability to influence and drive change; applying the company's vision, and seeing it produce concrete results; and changing the work life of your colleagues. The small changes that make life in the plant smoother and drive good results, that's what I'm working for.

How do you overcome the obstacles that arise?
This is an easy one. It's the support system I have at home and at work. At home, I am blessed to have a very loving and supportive husband, and the nicest son a mother can ask for. At work, my team is so alert and so supportive. We don't need to say to each other that we need help. We know each other so well that when I am running behind or get overwhelmed, someone will ask me what they can help with before I even think I need help.

What is your biggest learning since joining Cascades?
The Leadership Development program that I took as part of a group, which was led by Steve Cousins, General Manager, Cascades Containerboard Packaging, had the biggest impact on both my career and my personal development. The fact that the whole management team in Ontario went through the program was a huge advantage for someone like me, who was stepping into a new role.

What advice would you give to women who aspire to key roles in a traditionally male environment?
Follow your dreams, and surround yourself with people who will support you along the way. Being positive and proactive, and showing solidarity always leads to good results.

Your last name leads me to believe that you are of another nationality. Can you tell me more about that?
Yes, I was born in Bulgaria. I grew up there. I completed four years of studies in physics engineering and worked as a corporate salesperson for a telecommunications company. I immigrated to Canada in 2011.

How did your origins influence the person you are today?
Growing up in a fairly poor, ex-communist country definitely helped me to develop my instincts a lot. The environment, the people and the atmosphere are very different here in Canada. I can say that my origins made me a fighter and taught me to always find a way to overcome the obstacles that would be thrown my way.
Testimonials
"I've been working with Victoria since she became Production Manager, Succession in the fall of 2021, and it's been a real pleasure. She has a thirst for learning and quickly demonstrated her ability to grasp difficult concepts. She is easy to coach and is always working on self-improvement. Her charming personality has allowed her to make a place for herself among the management and production staff."
Toni Lionetti, Plant Manager, Cascades Containerboard Packaging – Scarborough and Rexdale
"Victoria has always shown her eagerness for more knowledge and her ability to learn about the corrugated industry. Victoria would ask questions from her colleagues so she could use the knowledge in her daily work. She is always a team player, supporting our customers, her colleagues and production. It was a great pleasure getting to know Victoria and watch her career grow. Victoria will give it her all and be great leade! Congratulations Victoria!"
Terry Clarke, Designer Supervisor, Cascades Containerboard Packaging