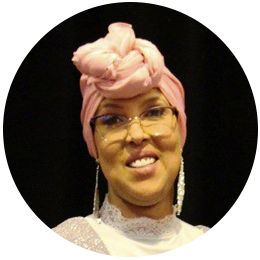 Sorter,
Cascades Recovery+ – Ottawa
---

Strong in her convictions, Kawsar Omar is resilient and determined. Her story is impressive and demonstrates the perseverance and character she has shown in asserting her rights as a Muslim woman from Somalia in Canada.
She inspires her colleagues by speaking truthfully, which earned her a place as a finalist at the Source Awards gala, the annual gala recognizing Cascades employees who exemplify the company's values. Her testimonial in favour of working conditions at the Ottawa sorting centre during a townhall meeting prompted Darren Bicknell, Vice-President, Operations, Cascades Recovery+, to accompany her for a day, in her role as a sorter. This experience paid off, as it led to renovating the employee lunchroom, purchasing a coffee machine, adding air conditioning and heating on the sorting line, and installing padded carpeting on the floor.

Kawsar, tell me a little about yourself.
My name is Kawsar Omar. Originally, I am from Somalia, but my father moved my mother, siblings and me to Dubai. After years of living in Dubai, I got married and moved to Qatar. Later on, my husband and I immigrated from Qatar to Canada and experienced several challenges and a huge language barrier. After having five children with him, he left. We had three girls and two boys. I became the breadwinner of the family and worked two jobs to accommodate and care for my kids to give them what they want in life. It was a challenge and quite rewarding seeing them grow and prosper. Three of my children have graduated from university, while one is in his final year of university and my youngest is in middle school.
Moreover, my hobbies include playing volleyball, watching movies, going for a walk and hanging out with family and friends.

How long have you been at Cascades?
I've worked at Cascades since May 11, 2019. I remember because it was like winning the jackpot when I got the call from the recruitment agency! (laughs) At that time, I was working two jobs seven days a week. It was physically and emotionally exhausting. In 2012 and 2013, I was informed by a family friend the plant was hiring. I applied because I knew that the working conditions, pay and environment were healthy and great. I finally became a permanent employee with Cascades on August 19, 2019.

What's your role at the Ottawa sorting centre?
When I started, I worked on the plastic line. After a while the plastic line was discontinued, and the night shift crew were moved to the fibre line, which is a conveyor for paper and cardboard. My shift is from Monday to Friday 11 a.m. to 8 p.m., and the occasional Saturdays. In the morning, I wear my uniform, put on my safety glasses, my gloves, and afterwards, I take my place and start my work.

Not only do you have a diverse background, but you're also a woman of colour in a predominantly male environment. How do you feel about this?
When I started at the plant, 97% of the employees were men. At first, I was uneasy and uncomfortable being surrounded by that many men. However, working along side my colleagues we have developed a great friendship and even better working environment. The HR manager Mike was very welcoming and friendly. He advised my colleagues and me of his open-door policy, and it was reassuring and comforting to be able to go to him.

I understand that equity, diversity and inclusion are important to you.
I take comfort in living in a country where people have rights, freedom of religion, freedom of thoughts, beliefs, opinion, expression, freedom of equality and so forth. I take pride knowing that I have rights, and no one is able to infringe upon them. In addition, being able to live in a country filled with diversity and feeling a sense of inclusion.

And what do you think is the key to creating an equitable, diverse and inclusive workplace?
I believe in order to implement diversity, equity and inclusion, it has to start from management. Management must promote a culture of respect and inclusion, break down any barriers, modify policies and practices, provide accommodation when needed, implement ongoing learning, and keep an open line of communication.