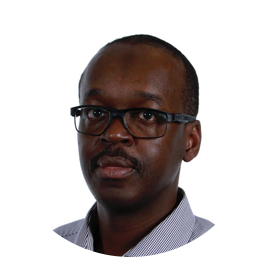 Supply Chain Director
Cascades
 
---

My name is Oumar Ba and I am a Supply Chain Director at Cascades. I'm originally from Senegal. I arrived in Kingsey Falls in 1995 and, at age 51, have lived here longer than anywhere else on the planet. Obviously, I consider myself Senegalese, but I am also a true Quebecer.
I was born in Dakar, the capital of Senegal. I came to Québec at the age of 18 to study computer science at university. In the 1970s, only a minority of Senegalese pursued higher education, and of those, an even smaller proportion had the opportunity to attend school outside the country. Unlike my parents, who studied outside Senegal, I chose not to return to my native country because of the limited career opportunities in my field.
My first experience at Cascades was as an intern in 1991, while I was doing my bachelor's degree at the Université de Sherbrooke. I got a permanent job at the Plastiques Cascades plant in October 1995, just after completing my master's degree. So I moved to Kingsey Falls.
At first I felt like an outsider here, because everyone knew each other, and there were no other Black people or even any other nationalities! But the onboarding process for new employees, which ran from October to December, helped me a lot. Right away, I was able to make some very nice acquaintances!
Only at my plant, there were five newcomers. The onboarding activities made it much easier for me to integrate into my work setting. And I was welcomed by an incredible team that was very friendly toward me. Every Friday, we went out to eat at a restaurant. That simple little gesture made a huge difference. People were open to me, so I opened up to them. In the spring, I organized a small soccer league in the village.
 
Confronting prejudices

Even though my integration into Québec went well overall, I can't say that things are always easy. The reality is that you can't live here, be of foreign origin, and not be constantly faced with the fact that you're different. For example, when I meet with suppliers, they rarely consider that I might be the boss. They often turn to another of my colleagues who is actually one of my employees, and this can lead to some awkward situations when they figure out our actual roles. I've also witnessed a situation where even Black people like me have had difficulty grasping that I could be a team manager. It just goes to show how prejudice is something that affects all of us.
Have I experienced racism and discrimination? No, thank goodness. Not anywhere, either in Québec or elsewhere.
But people look at me differently. And I'm aware that this look exists and that I have to live with it if I want to move forward. As an immigrant, I quickly realized that the bar would probably be set higher for me than for others. I did a master's degree because I figured my bachelor's degree in computer science would never be considered on par with a Quebecer's.
Diversity is a source of wealth

Diversity is a topic that affects me and is of particular interest to me. From what I've read, I realize that people are afraid of the unknown, that they derive comfort in what they do know. In a business context, this can unfortunately translate into homogeneous work teams. Yet managers should really have the courage to choose team members of equal skill based on the enrichment and diversity they bring.
I'm pleased with Cascades' initiative to give visibility to its employees' testimonials and experiences, which is why I agreed to tell my story. It's a great opportunity to examine our prejudices, remove our blinders and understand that diversity is an added value.