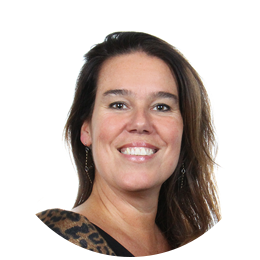 Vice-President Human Resources -
Cascades Containerboard Packaging
 
---

Inspirational, go-getting, dedicated, and passionate, a 1999-veteran of the Cascades team—this is Karine Jobin. Her incredible career path has led her to travel extensively and hold positions such as Human Resources Manager (HRM), Regional Human Resources Manager (RHRM) and now Vice-President HR for Cascades Containerboard Packaging (CCP). She has mostly made her mark in CCP but has also left footprints in Specialty Products Group.
Her thirst for challenges, her confidence in her abilities and talents, combined with her gratitude for the support of those around her, make her a strong and humble woman who has never tried to belittle others to achieve her goals.

How would you describe your current role?
My job is to lead HR for Cascades' entire Containerboard Packaging Group and serve as a business partner for our President, Charles Malo, and the members of our management team, to support and coach them in their role as inspiring leaders. It's also to ensure that we provide our teams with the right tools, processes and training aligned with Cascades' vision, strategy and business objectives for HR development and execution. That means it's my job to make sure that through our decisions and actions, we also stay focused on developing and engaging our employees

How did you succeed in establishing yourself in a male-dominated environment?
I never personally felt like I had to forge a place for myself as a woman in a male environment. However, I am aware that my positive experience does not mean that we should not have a certain concern and awareness about any unconscious prejudices we may have. I would say that the actions Cascades' has taken in recent years, and in particular those taken by my colleague Lucie-Claude Lalonde, have made me more aware of this situation, both in terms of recognizing increased female representation and in terms of the importance of including all forms of diversity. These actions are likely to contribute greatly to engaging and motivating our employees.

How do you overcome obstacles that arise?
I take challenges as new opportunities to broaden my experience. Soon after I started at Cascades, I quickly had to take on the position of Human Resources Manager, without ever having had any experience in the field. I then moved on to HRM for a unionized plant in Montreal, which was a position I had little knowledge about at the time. Next, I went on to a multi-plant position in Ontario, even though my English skills were quite weak. Once again, I saw these challenges as opportunities to grow and develop further. More recently, with Cascades' organizational restructuring, which is one of the biggest changes I have yet experienced within the company, I see this as another great challenge.

What is your greatest ambition?
Making a difference for the people around me and helping to make Cascades an employer of choice with inspiring leaders and values that set us apart. I want to help ensure that the people who work at Cascades are passionate about what they do and that they know that their skills and commitment contribute to the company's success.

What has been your best discovery since joining Cascades?
The strength of the values that guide this company. For example, I have learned that respect is a deeply rooted value at Cascades. In my role here, I have had to deal with situations that were not always easy, including plant closures or sales. During my first closure experience, I was encouraged to give my opinion on how we should present and manage the situation. Even in all my other similar experiences and considering the risks of an early closure announcement, we have always managed the situation "the Cascades way," that is, with respect, both in the way we announce such news and in the support we give to our people and the surrounding communities. Let's just say it's quite impressive for a company as big as Cascades.

What has been the most memorable moment of your career?
Two events have had a significant impact on my career. First was when I spoke almost no English and had little experience and still accepted a position as an HR manager in Ontario. It was not an easy experience at first, but I persevered, and today I am proud of the results I achieved there and of the great new connections I made—they enabled me to grow as a professional.

Second, I am proud to have been involved in the construction, start-up and ramp-up of the Greenpac plant. I participated from the outset, and the company placed their trust in me. As a team, we developed a management model that included employee participation in making and executing decisions, and in many other aspects. Still today, this project remains a source of great pride.

Did you always aspire to have such responsibilities?
Before my first interview at Cascades, I did not really know what an HRM's role was. I was hired as part of the first succession team, in 1999. I didn't really know where it would lead. I knew I wanted to "make a difference," and that I liked new challenges, but it was never about having a "title"—not then, and not now. What makes me vibrate are the challenges—seeing people develop. It's also about learning, being involved, feeling useful, feeling that I am making a difference. I never told myself that I absolutely wanted to become vicepresident; there were just opportunities, actions on my part and people who trusted me, and here I am today.

What advice would you give to women who aspire to hold key roles?
To believe in themselves. To believe in their strengths and accept that it will not always be perfect. No one is perfect, and you shouldn't be afraid to leave your comfort zone. I think that's what I did by accepting the various positions throughout my career. Personally, I have been fortunate to have people who support me, but I really believe it comes down to having confidence in your abilities and not being embarrassed to show your interest and your desire to learn. It's about being true to yourself.
Testimony
"Karine's humanity and sensitivity are what inspire me most about her. Her consistent collaborative approach and little acts of kindness make the difference and show that she truly cares about others. She trusts us completely and gives us the necessary latitude, all while remaining available to offer guidance. She is an inspiring leader who coaches in action and focuses on team successes rather than personal ones. Karine is also someone who is authentic and acts with integrity. Life at work with Karine means enjoying your work and being exposed to happy vibes that energize you and make you feel good. As a young professional, I want to identify myself with someone like her. I am sincerely grateful to her."
Vanessa Boulos, HR Manager, Cascades Containerboard Packaging
"What I appreciate most about Karine is her sunny disposition. She always has a smile on her face and when she walks into a room it's always with a healthy dose of feel-good attitude. She authentically likes people and it always amazes me how interested she is in individuals from all walks of life. And people like her back. She has a highly developed sense of duty and is able to stand behind her opinions in more difficult situations. Karine really adds great value to our organization through her approach, her love of people and her commitment to the company, all of which I believe make her an inspiring leader."
Patrick Chaperon, Vice-President Operations, Cascades Containerboard Packaging
"I have had the opportunity to work with Karine for almost twenty years at Cascades, but it is really in the past fifteen that I have worked more directly with her. I've seen her evolve and understand the importance of her contribution to the company. In this time, Karine has proven that she is always ready to take on challenges, having taken on mandates that have led her to Ontario, Western Canada, the United States and back to Quebec. Through her human and respectful approach, she has succeeded in inspiring teams to go above and beyond and achieve their objectives, while maintaining the courage to make difficult decisions when necessary. She makes the teams she is a part of that much more productive. In her role as Vice President Human Resources, she has built a team committed to supporting our business line in order to achieve our strategic goals. In both her personal and professional life, Karine is the whole package, someone who inspires trust and whom you can depend on. She always aims higher than expected. Something she once said to me has stayed with me because it characterizes her so well: "No matter what objective we set for ourselves or what challenges we face, it's what we do that guarantees our victory." We can consider ourselves lucky to have her on the Cascades team."
Charles Malo, President and Chief Operating Officer, Cascades Containerboard Packaging