Update on the situation with regard to COVID-19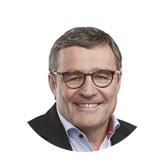 Mario Plourde
President and Chief Executive Officer at Cascades
"Cascades manufactures products that play an essential role in the day-to-day lives of families and the supply chains of our customers. Through our recovery and recycling activities, our hygiene products and our packaging that enables food and many other essential goods to be shipped, protected and preserved, we make a difference in the lives of many of our fellow citizens."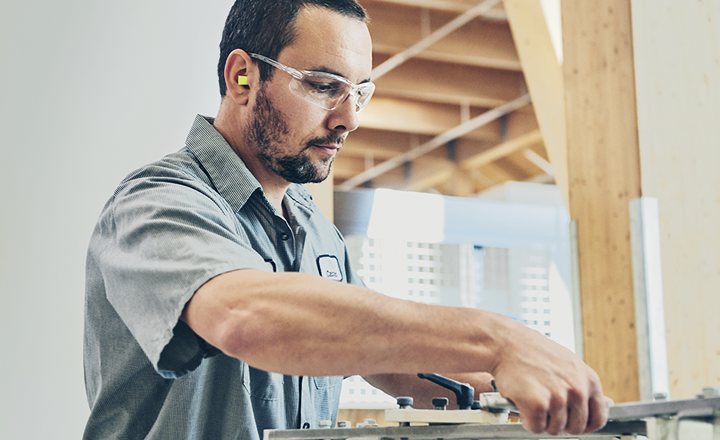 Our priority: the health and safety of our employees
Social distancing in the workplace
Increased the cleaning and disinfection frequency of our work environments
Added additional cleaning stations
Policy governing restrictions on travel and plant visits
Expanded telework policy
Our Internal Poster Campaign
For a few weeks now, Cascaders have been invited to gradually return to the offices of our different business units. At their return, we communicated these preventive measures, and we continue to do so, through different ways. Find here our most recent internal poster campaign.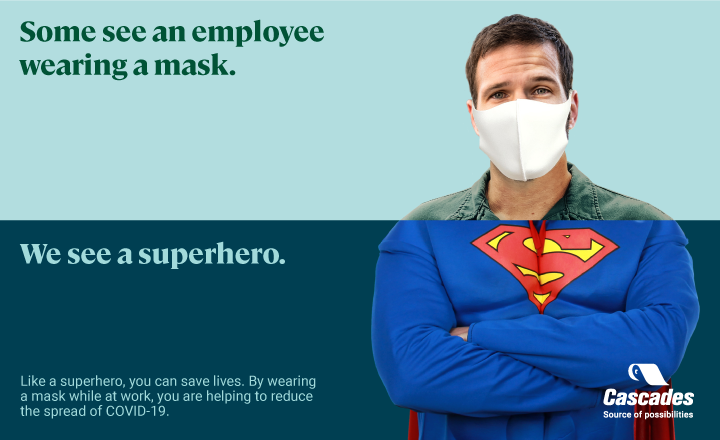 Wearing a Mask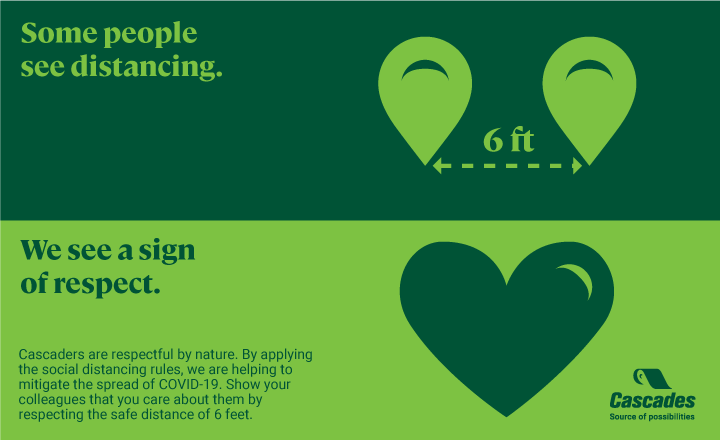 Social Distancing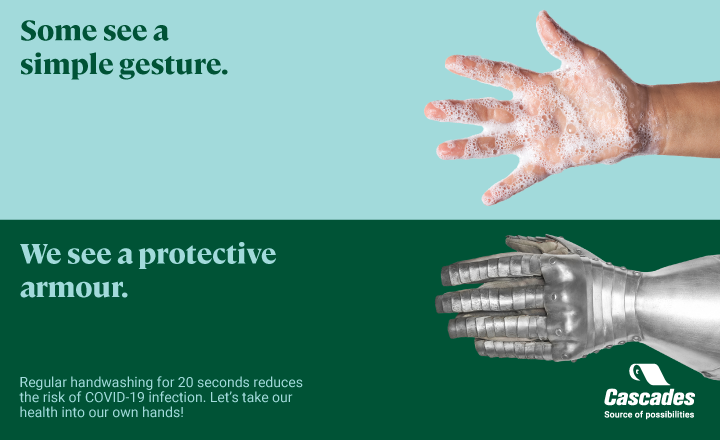 Handwashing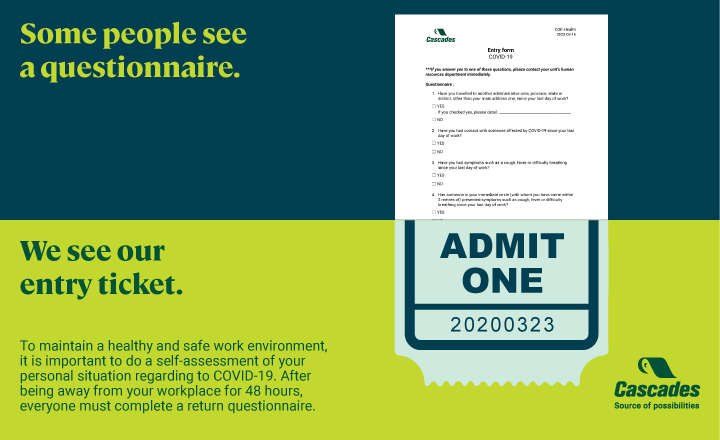 The Return Questionnaire
1/4
Continuing to earn our clients trust
We continue to operate to meet our commitments to our customers and the consumers who depend on them. To date, our operations have not been importantly disrupted by the pandemic and our facilities continue to operate despite the challenges posed by the current situation.
 

Letter to our clients
Supporting our suppliers
In the context of the current pandemic, we need your support now more than ever in order to continue to fully play our part. So that Cascades can successfully play our part, it is essential that you continue meeting your current obligations while doing your share to minimize any interruptions to the supply chain.
 
Cascades is committed to the fight against COVID-19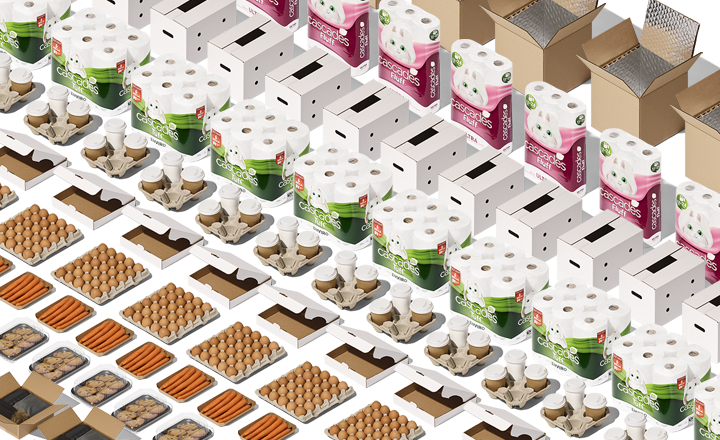 Our products are daily essentials
Cascades produces a variety of essential items that make your day-to-day life easier. We're about much more than toilet tissue!
Innovative Deconfinement Assistance Solutions
Cascades has developed partitions, individual dividers and a protective visor.
 
Use paper to dry your hands
Did you know that effective handwashing obviously requires water and soap, but also paper? In fact, most studies show that paper is the most hygienic way to dry your hands.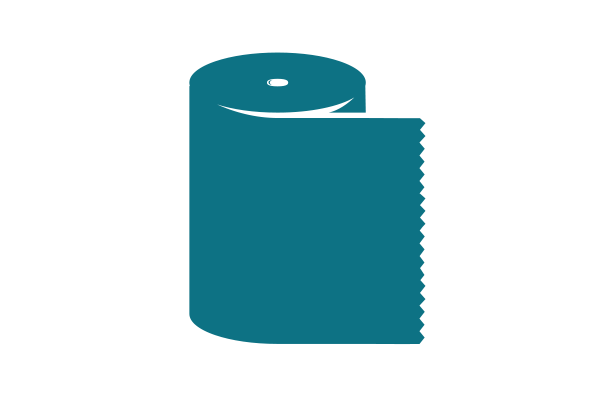 The Cascades PRO brand offers you dispensers adapted to the needs of your employees and customers, as well as a complete line of paper hand towels to ensure proper hand drying.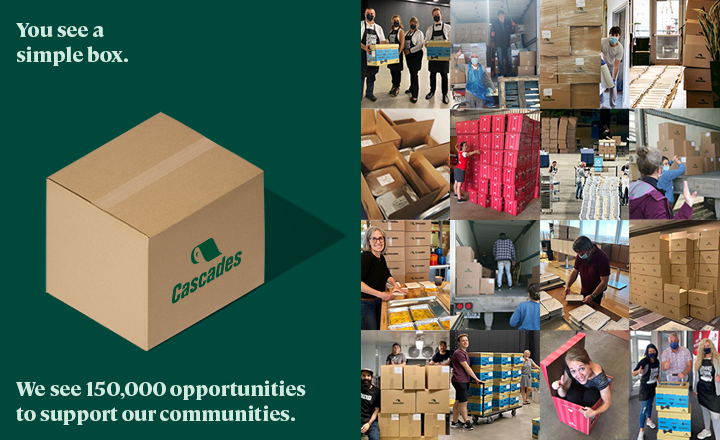 More than 150,000 boxes to food assistance organizations
Since the beggining of the COVID-19 pandemic, Cascades has given more than 150,000 boxes to community organizations primarily involved in emergency food assistance. These boxes have made it possible to meet the organization's growing demand and thus to feed tens of thousands of families who have been made vulnerable by these events.
 
Meals distributed to front-line essential workers
When the pandemic broke and Western New York shut down, the Greenpac plant, considered an essential enterprise, first supported local restaurants by buying meals to feed employees. These support efforts continued by purchasing meals for essential front-line workers. A total of 515 meals were distributed to first responders and front-line workers in the community.
Cards that warm the heart
Cascades Sonoco - Tacoma has partnered with Letters of Love, Send a Smile and Operation Gratitude to send good words to seniors, cancer patients, medical staff and military across the United States. More than 100 cards and letters have been produced by employees and their families.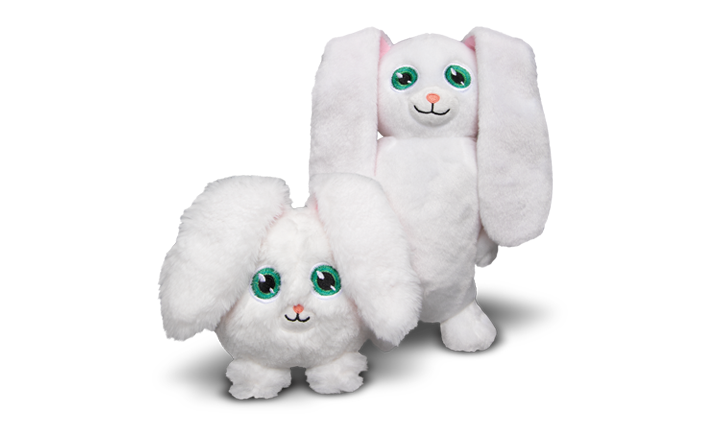 $115,700 for the Charles-Bruneau Foundation
In a unique context marked by the COVID-19 pandemic, Cascades Fluff & Tuff® launched its second online stuffed animal sale in support of the Charles-Bruneau Foundation. An internal campaign was also organized for Cascaders, raising a total of $115,700 for the Foundation. In addition purchasing a stuffed animal, comforting messages could also be left on the FluffTM and TuffMD for families affected by childhood cancer. More than 800 words of encouragement were received.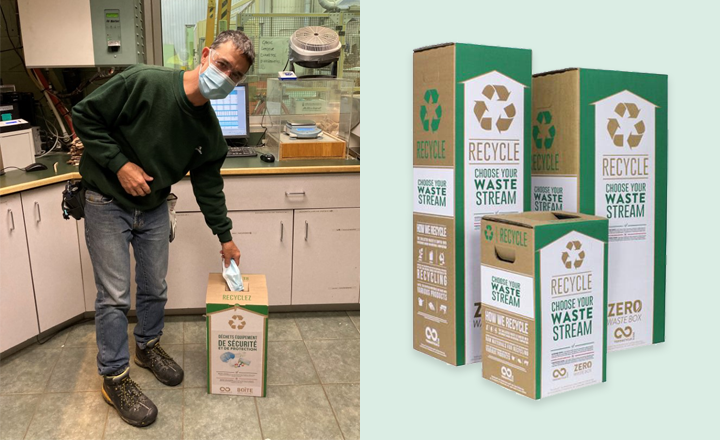 The recycling of single-use face masks at Kingsey Falls
Cascades Tissue Group - Kingsey Falls has promoted the recycling of single-use face masks through TerraCyle, a company that recycles safety and protective equipment, including single-use face masks, by installing collection boxes in the plant. The collected waste is mechanically and/or manually separated and then recycled or recovered by the organization.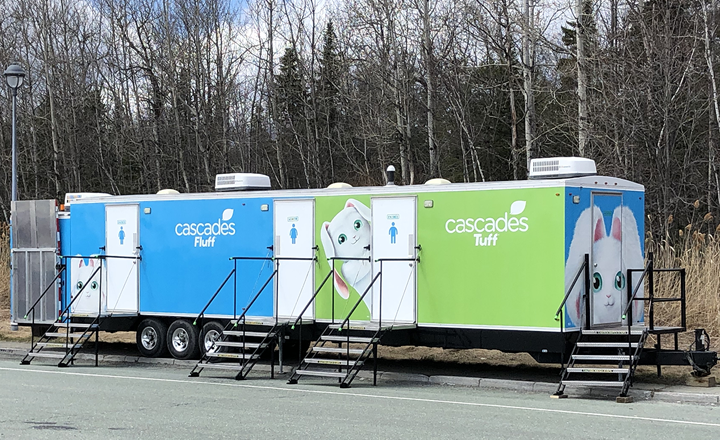 Our mobile units provide comfort for truckers
The closure of service centres and roadside restaurants has resulted in truckers having limited access to washrooms. In collaboration with the Québec Ministry of Transport (MTQ), two of our portable multiple lavatory units have been set up in key areas.
(In French only)
Cascades Containerboard Packaging - St. Marys: $5,000 donation to the Salvation Army
Employees at the St. Marys plant wanted to give back to the community and show their support for those in need. They donated $5,000 to the Salvation Army Food Bank.
Cascades Tissue Group – Scappoose: 300 cases of toilet tissue donated
During the ongoing pandemic, procuring hygiene products has become more challenging at times. In response, Cascades Tissue Group – Scappoose has donated 300 cases of toilet tissue to Columbia County in the U.S. The cases will be redistributed to local organizations and citizens in need.
 

Hugo D'Amours
Vice-President, Communications, Public Affairs and Sustainability
"We have a donations and sponsorships committee that meets regularly to review and process requests. But in the context of COVID-19, things were done differently and quickly. We adapted to urgent needs and unusual situations."
 
Frequently Asked Questions
Cascades wishes to remain transparent to its various audiences by answering the most frequently asked questions regarding the situation of COVID-19.