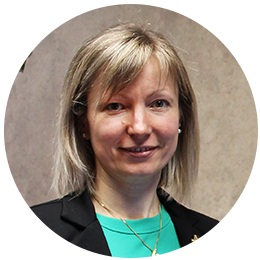 Corporate Controller,
Cascades
 
---

With such a varied background, Silvia doesn't back down from a challenge. With her determination, zest for life and constant willingness to learn, she welcomes life's challenges with open arms.

Silvia, tell me a little bit about your life before Cascades.
First, as you may have noticed, I'm not from Québec but from Moldova, a small country in Eastern Europe. I did my studies there, including a master's degree in accounting. Then, in 2006, I did the ACCA international certificate. In 2009, I began the immigration process to settle in Canada.
In 2011, when I arrived in Montréal, I had no family, friends and home, so I started looking for work in grocery stores while waiting to settle in. Nobody would hire me because I didn't have Canadian experience. It was like that for a while, but eventually, my knowledge of iForest, an independent non-profit environmental research and innovation organization, led to my first job in Sherbrooke, as a specialist for a company. I stayed there for seven years and then my family and I moved to Drummondville. I decided to slow down a bit and focus on my family. Later, I received an email from François Fillion, Corporate Vice-President, Finance, asking me if I was looking for a job. I accepted his offer and that's how I ended up at Cascades.

What is your current position at Cascades?
I'm a corporate controller. I'm responsible for Cascades' external financial statements and in charge of checking annual and quarterly reports. I also lead the team that works hard at getting the numbers out. The head office's accounting team is also under my wing.

What do you like most about your current position?
The fact that I don't have the time to be bored. There's always something to do and every day is different. Cascades is so big that yesterday's problems aren't the same as today's. There are always great projects that need to be done on different teams, so the challenges are always very diverse.
As for team management, I'm very happy to have a team that loves numbers as much as I do! Everyone gets along well and I'm really happy to have them. I like being able to learn from them, to teach them things and share my experience with them.

What attracted you to your job and to Cascades?
When I was young, I wanted to be a doctor, but in my country, after the Soviet Union fell, doctors were among the poorest. Since my mother wanted me to have a stable job that would provide me with the bare minimum, she encouraged me to study economics. I grew to love numbers and because I'm a logical person, it was perfect for me.
As for Cascades, when I met with François to discuss the position he had offered me, what I found most exciting was the challenge and complexity of the work he was proposing. I also found the company's values very appealing.

Did you encounter challenges with the French language early in your career at Cascades?
No, I didn't find it difficult. On the contrary, people were much more understanding and patient because they realized that I was from somewhere else and sometimes needed further explanation. There's no communication barrier.
At Cascades, company values are very important. They're all about inclusion, respecting differences, being open-minded and showing empathy toward our colleagues. I'm very lucky; I have a team full of people from all over the world, so we're able to see each other as people working toward a common goal, to put aside our differences and get to know each other.

What is the greatest thing you've learned since joining Cascades?
Patience. We need to listen. I learned that in a large company, you need to stay informed, communicate and listen. Since joining Cascades, my team doubled, so through all the changes we've gone through, the skill I developed most is listening—listening to my colleagues, my team and everyone around me. When people feel heard, they tend to trust you. I think it's very important for your actions to live up to your words. There are many people that I have to listen to and it's important to give everyone a chance to speak.

How did you manage to maintain a work/life balance?
It's not the easiest thing to do! I read somewhere that you need to find a job that doesn't feel like work. In other words, you have to be happy in your work. I love what I do and I always try to balance the two.
I'm very blessed to have a very understanding husband and son. If I need to finish something from work, they'll make me something to eat, a small coffee, etc.
With the pandemic, I found that we had to learn how to work and manage our energy more than our time. I think that made me find balance— something to remember. When I need to take time for myself, I do, which is made possible largely due to my family's support.

How did your origins influence the person you are today?
We all have a path in life for a reason. We're here on Earth to learn and I find that we're made stronger from seeing different things from different eras. I think back on my childhood: I was born in the Soviet Union, lived through my country's civil war, lost my parents at a young age, had to fend for myself, ended up in Montréal and more. The fact that I come from where I come from makes me appreciate what I have.
What I experienced in life gave me a greater appreciation for the present moment and the people in my life. My background influences the person I am today in terms of how grateful I am and where life has taken me.
Testimonial
"Through her determination and diligence, Silvia quickly established her place and credibility at Cascades. Having only arrived in Québec 11 years ago, her open-mindedness enabled her to adapt to Québec culture as well as Cascades' unique culture. A strong, authentic and curious woman, she never hesitates to tackle a challenge and fully deserves all of her success. Finance is proud to have her on its team!"
François Fillion, Corporate Vice-President, Finance, Cascades